Aberlour – Alice Littler Park
This circular walk round Alice Littler Park is flat and on good paths, making it suitable for wheelchairs and buggies. The path follows the course of the River Spey as it speeds through Aberlour, under the amazing Victoria Bridge. The park itself is full of flower beds and shrubs making this a lovely walk throughout the year. The Speyside Way Visitor Centre is open from March to October and is worth a look in to discover the history and wildlife of the area.
---
[zoom zoomin=2]
0.5 miles (0.8 km)
15 minutes
Accessible for all users
Paved footpaths & roads
Generally level
Unsigned
---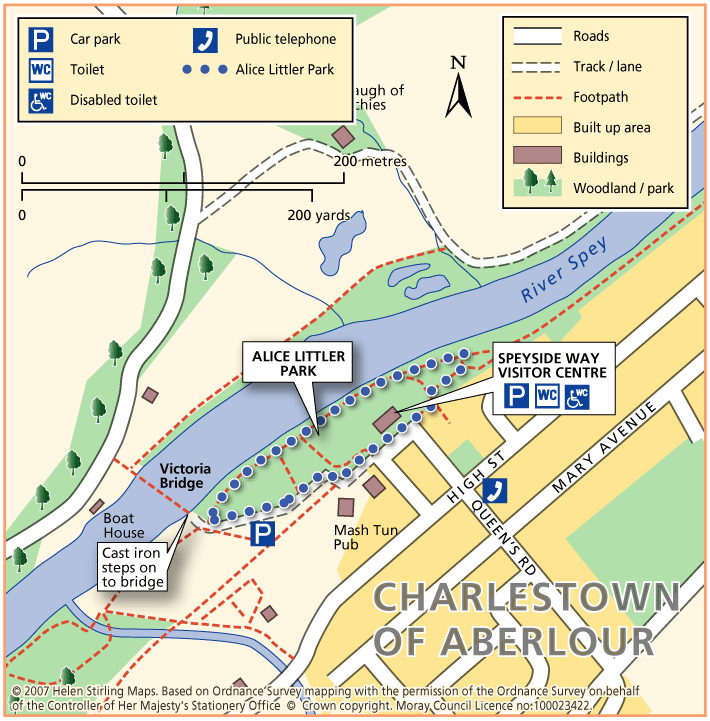 Report a route change

If you have followed this route and noticed any differences please report a route change by sending an email to: 
Send us a GPX track

We would like to offer GPS tracks of all routes on this site.

If you are able to help please create a GPX track of this route (no detours) and send it to us for inclusion.
Start – Speyside Way Car Park
1. From the car park, turn left towards the river and follow the path round to the right as it follows the banks of the Spey.
2. At the end of the park, turn right and head back along the path, past the Speyside Way Visitor Centre and back to the car park.
This walk can be extended by continuing along the Speyside Way, going towards Craigellachie.
---
Links