Archiestown – Forest Circular
This circular walk takes you deep into woodland along tracks which are not suitable for wheelchairs and buggies.
---
[zoom zoomin=2]
1.65 miles (2.64 km)
40 minutes
Unsuitable for wheelchairs and buggies

Terrain: Varied surfaces

A mixture of bare earth and gravel paths. Surfaces can be muddy in places.

Gradient: Undulating

Some steady inclines and declines.

Barriers: Some barriers

Several narrow bridges/ platform bridges. Tree roots in places.
---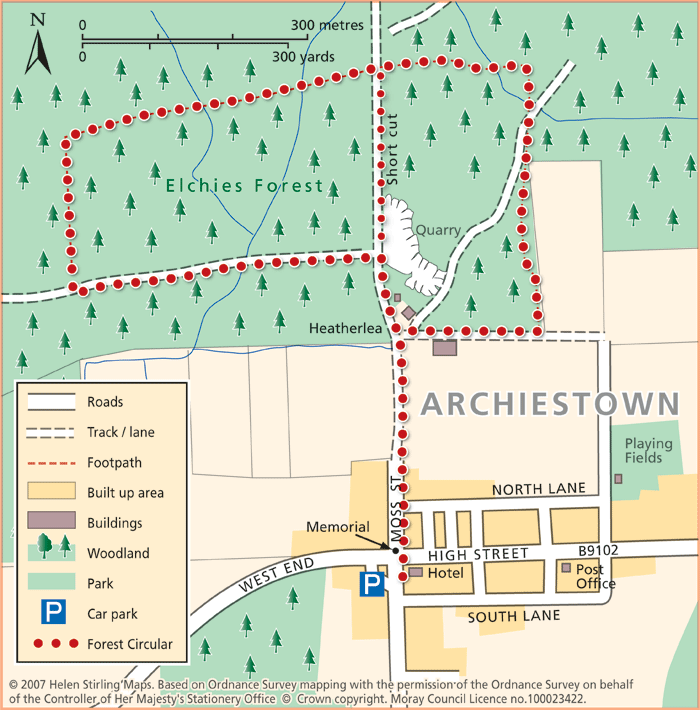 Report a route change

If you have followed this route and noticed any differences please report a route change by sending an email to: 
Send us a GPX track

We would like to offer GPS tracks of all routes on this site.

If you are able to help please create a GPX track of this route (no detours) and send it to us for inclusion.
Start – Car Park in Square, in front of Hotel
1. From the car park, walk up Moss Street past the Memorial and continue along the country road, past a car park on the right, through a metal gate and into the wood.
2. Take the next path on the left and walk for approximately ½ mile (10 – 15 minutes) where you take the path to the right.
3. Follow this path as it bears sharp right and continue walking until you come to to a crossroads of paths. (Short cut here, take the path to the right and continue straight back to the Square. This walk is 1 ¾ miles)
4. Continue straight over at crossroads and follow the track as it bears right.
5. Where the path splits, take the path to the right back to the car park and continue back to the Square.
---
Links