This walk takes you from the picturesque harbour in Burghead on a circular route along the old railway track. The surfaces are generally good but not suitable for wheelchairs and buggies. It can be a little exposed if the winds are strong. There are toilets at the harbour and benches on Grant Street.
---
[zoom zoomin=2]
1.5 miles (2.4 km)
30 minutes
Unsuitable for wheelchairs and buggies

Terrain: Varied surfaces

Gravel paths and tarmac pavements

Gradient: Short steep sections

Fairly steep decline on gravel path between Fraser Road and the coastal path. Elsewhere relatively level with some gentle slopes.

Barriers: Some barriers

Windblown sand can accumulate on a short section of the coastal path, near where it meets the track down from Fraser Road. This may cause difficulties for wheelchairs and some buggies.

Partly signed
---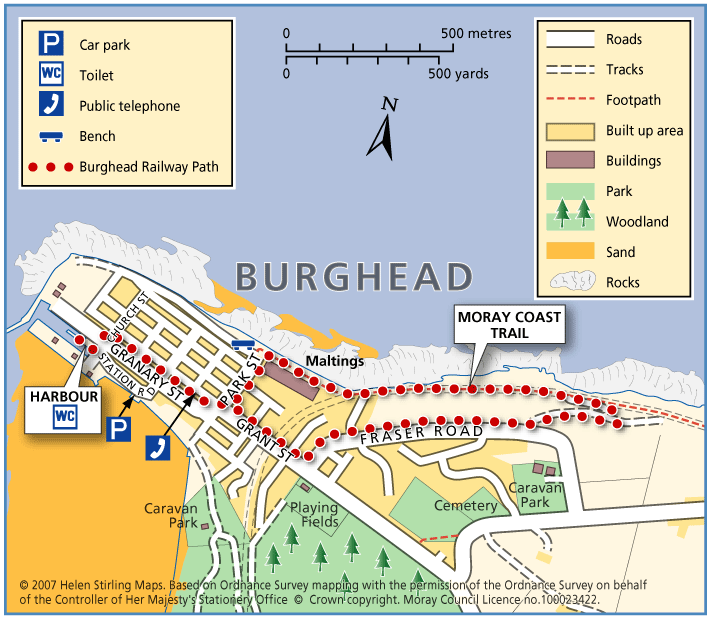 Report a route change

If you have followed this route and noticed any differences please report a route change by sending an email to: 
Send us a GPX track

We would like to offer GPS tracks of all routes on this site.

If you are able to help please create a GPX track of this route (no detours) and send it to us for inclusion.
Start – Burghead Harbour
1. From the harbour, turn left into Church Street and sharp right into Granary Street.
2. Continue down Granary Street and turn right on to Grant Street.
3. From Grant Street turn left on to Fraser Road, turning left when you reach the footpath.
4. At the end of the footpath, turn left on to the Moray Coastal Trail which you follow back towards Burghead, passing the Maltings on your left.
5. Past the Maltings, turn sharp left into Park Street, cross Grant Street to Granary Street and walk back to the harbour.
---
Links