Craigellachie – Telford Bridge
This is a linear walk along level paths, which include grass tracks and so is not suitable for wheelchairs and buggies. It follows part of the Speyside Way and has beautiful riverside views to the famous Thomas Telford metal bridge. There are benches in the car parks at both ends of the walk and seasonal toilets in Fiddich Park.
---
[zoom zoomin=2]
1.25 miles (2 km)
25 minutes
Unsuitable for wheelchairs and buggies

Terrain: Varied surfaces

Compacted earth and gravel paths with some grass sections. Timber bridge. The path also passes under the road bridge.

Generally level
Partly signed
---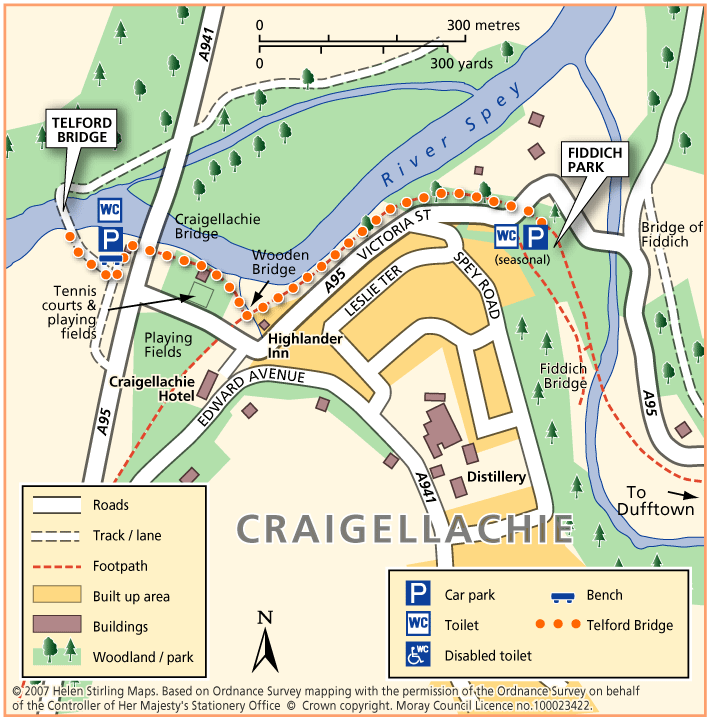 Report a route change

If you have followed this route and noticed any differences please report a route change by sending an email to: 
Send us a GPX track

We would like to offer GPS tracks of all routes on this site.

If you are able to help please create a GPX track of this route (no detours) and send it to us for inclusion.
Start – Fiddich Park Car Park
1 From the car park, follow the path signed to Aberlour with the River Spey on the right.
2 Continue along this path, turning right just over the wooden bridge behind the Highlander Inn.
3 Walk through the Playing Field, keeping to the right, through the Car Park and follow the path under the road bridge.
4 Turn immediately left by the Water treatment station and walk into the Car Park.
5 Take the first metalled road to the right to Telford's Bridge.
6 Return the same way.