This short circular walk is all on good pavements and is suitable for wheelchairs and buggies. The route is very picturesque, circling the ruins of Elgin Cathedral and can be extended by taking the path into Cooper Park.
---
[zoom zoomin=2]
0.75 miles (1.2 km)
15 minutes
Accessible for all users
Paved footpaths & roads
Generally level
No barriers
Unsigned
---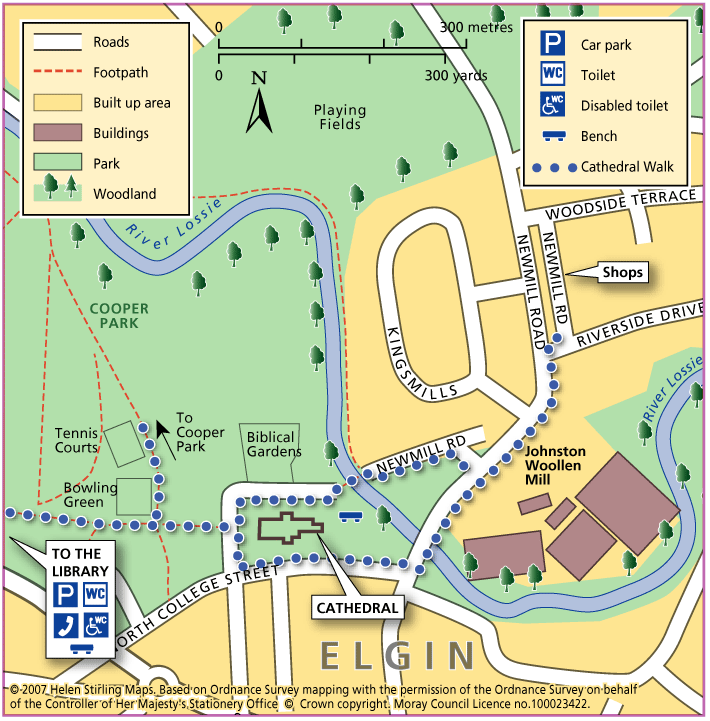 Report a route change

If you have followed this route and noticed any differences please report a route change by sending an email to: 
Download GPX
Download the GPX of this route for use on your GPS enabled device.
Start – Shops on Newmill Road
1. Turn left and walk along Newmill Road past Johnstons Woollen Mill and Shop.
2. Go over the Landshut Bridge & cross the road at the pedestrian crossing. Pass through the historic Panns Port & walk along North College Street, turning right immediately after the cathedral ruins.
3. Turn right again, past the Biblical Garden & over the River Lossie at Brewery Bridge. Walk ahead to the end of the road to rejoin Newmill Road.
4. Turn left and walk back to the start.