Elgin – Elgin Experience cycle route
One of five Circular Cycle Routes in Moray, the 'Elgin Experience' takes you on a 13 mile journey through Moray's Historic capital city and it's scenic surrounding countryside.
---
[zoom zoomin=2]
Generally level
Fully signed
---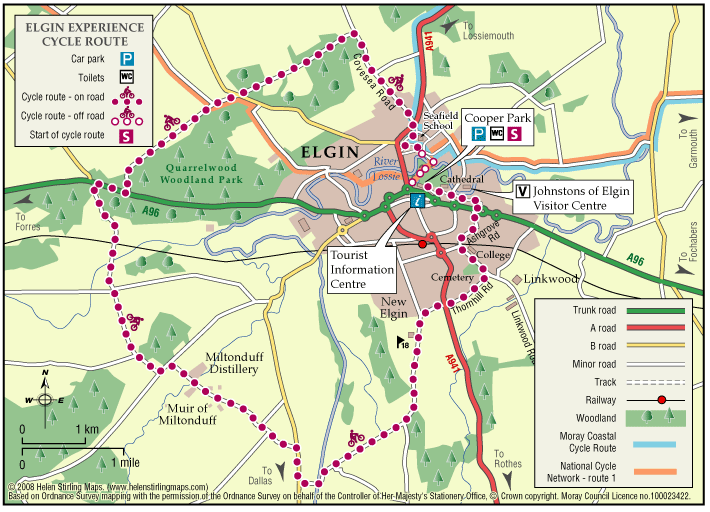 Report a route change

If you have followed this route and noticed any differences please report a route change by sending an email to: 
Send us a GPX track

We would like to offer GPS tracks of all routes on this site.

If you are able to help please create a GPX track of this route (no detours) and send it to us for inclusion.
Starting at Cooper Park in the centre of Elgin. Within Cooper Park there are the Biblical Gardens, the Library with cafeteria and secure stands for your bikes, peaceful walks down by the river, tennis courts and a well equipped children's play area. The ruins of Elgin Cathedral are also within 5 minutes walk.
The route tries to avoid too many busy junctions but where this has been unavoidable, the sections on the leaflet route map marked in BOLD indicate where it is advisable to dismount and walk, particularly during heavy traffic flow or if there are youngsters in the group.
Moray Cycle Rides – Route 1