This is a circular walk through Elgin, starting at the bus station. It routes south past the shops on Batchen Street and then into the residential area beyond, with its old stone built terraces and villas. There are plenty of views out to the countryside and hills to the south of Elgin.
---
[zoom zoomin=2]
1.2 miles (1.92 km)
25 minutes
Accessible for all users
Paved footpaths & roads

Gradient: Undulating

There are some long slow inclines/ declines, particularly along Batchen Street and Moss Street.

No barriers
---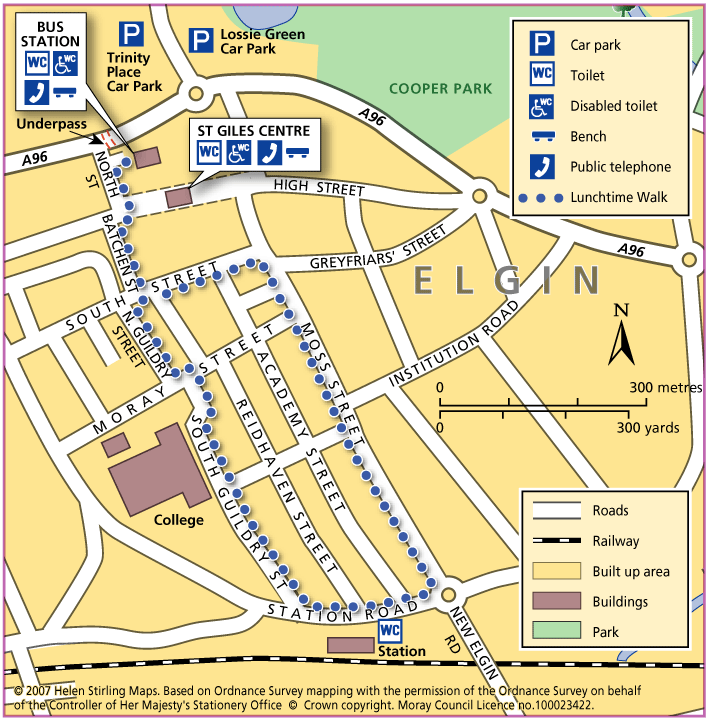 Report a route change

If you have followed this route and noticed any differences please report a route change by sending an email to: 
Download GPX
Download the GPX of this route for use on your GPS enabled device.
Start – Elgin Bus Station
1. From the bus station, turn left and walk up North Street to the pedestrian area on the High Street.
2. Continue up Batchen Street crossing the road at the top and turning right along South Street.
3. Turn left up North Guildry Street to the junction, cross over and walk past South Church to South Guildry Street.
4. At the end of South Guildry Street, turn left into Station Road and walk to the roundabout.
5. Turn left up Moss Street and continue to the junction of South Street.
6. Turn left along South Street to the junction with Batchen Street.
7. Turn right down Batchen Street back to North Street and the bus station.