Elgin – New Elgin Circular
This is a circular walk, which starts in Edgar Road and loops round south Elgin. It is all on good pavements and is suitable for wheelchairs and buggies.
---
[zoom zoomin=2]
2.5 miles (4 km)
45 minutes
Accessible for all users
Paved footpaths & roads

Gradient: Generally level

Mainly level with some steady inclines and declines.
---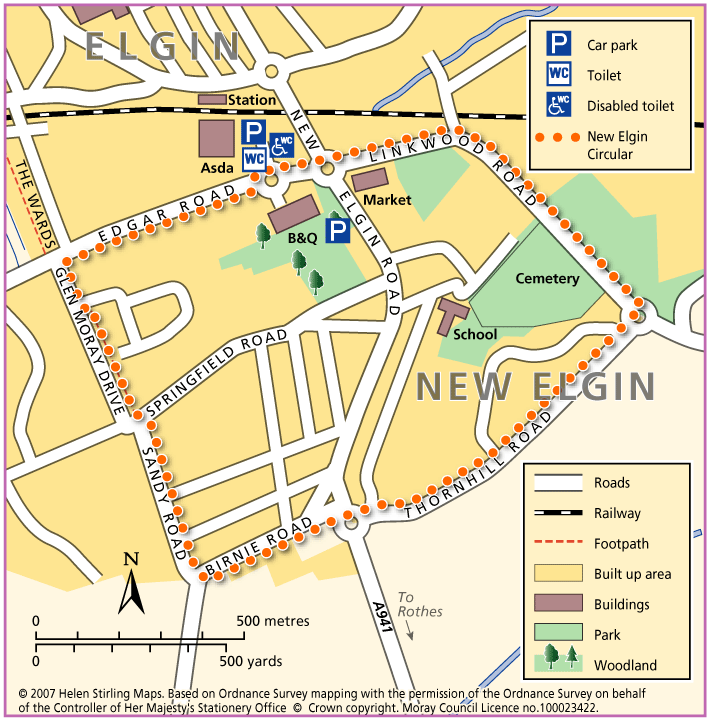 Report a route change

If you have followed this route and noticed any differences please report a route change by sending an email to: 
Download GPX
Download the GPX of this route for use on your GPS enabled device.
Start – Car parks in Edgar Road (Asda/B&Q)
1. Walk towards the roundabout on New Elgin Road, opposite the Market.
2. Continue straight along Linkwood Road, heading towards the Cemetery, until you reach the roundabout at Thornhill Road.
3. Turn right into Thornhill Road and walk to the end along the footpath. Cross the Rothes Road at the roundabout and continue along Birnie Road.
4. Turn right into Sandy Road and walk to the end. Cross Springfield Road and follow the footpath to Edgar Road.
5. Turn right and return to the start.