Elgin – Quarrelwood Ancestors Trail
The Ancestor's Trail meanders through the beautiful Oakwood part of which is an ancient semi natural wood.
---
[zoom zoomin=2]
2.5 miles (4 km)
1h 30 minutes
Suitable for a wide range of users

Terrain: Forest tracks

The path surface is of woodland earth which can be muddy when wet and undulating with exposed tree roots.

Gradient: Undulating

Some steep parts, undulating terrain

No barriers
---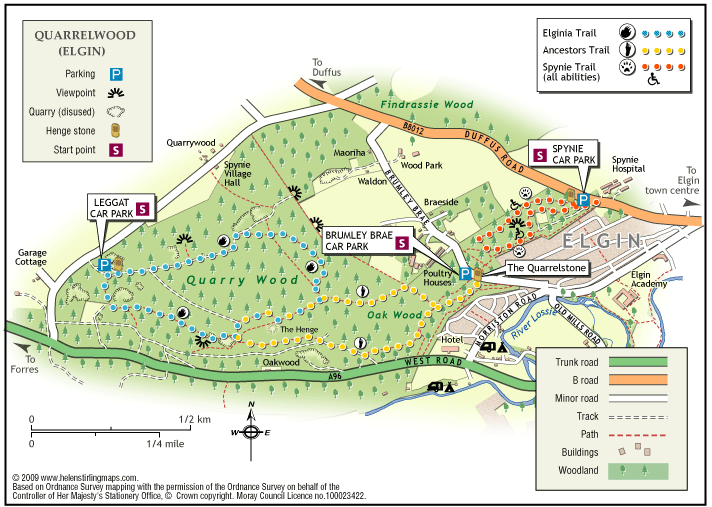 Report a route change

If you have followed this route and noticed any differences please report a route change by sending an email to: 
Send us a GPX track

We would like to offer GPS tracks of all routes on this site.

If you are able to help please create a GPX track of this route (no detours) and send it to us for inclusion.
It is thought Neolithic man used this wood for ceremonial purposes because of the Henge, where pottery and a bronze age axe mould was found. Stone waymarkers with a carved footprint reflect on past users.
Follow this circular trail from Brumley Brae Car Park and see the large variety of bird life in the woods. Look out for roe deer and red squirrels and other small animal life.
There is a variety of paths that lead off from the Ancestor's Trail and if you choose you can also link into the Elginia Trail and continue through to the Leggat Car Park where there are picnic tables and information leaflets from the Forestry Commission.
---
Contact
Moray Council Outdoor Access Manager