Elgin – River Lossie Walk
This is a flat linear walk along the banks of the River Lossie. The paths are good and suitable for buggies. This is a pleasant riverside walk, along part of the specially constructed cyclepath. There is a café and also toilets in the Library and Leisure Centre. You can extend this walk by including the Cooper Park Walk.
---
[zoom zoomin=2]
1.2 miles (1.92 km)
25 minutes
Accessible for all users
Paved footpaths & roads
Generally level
No barriers
Unsigned
---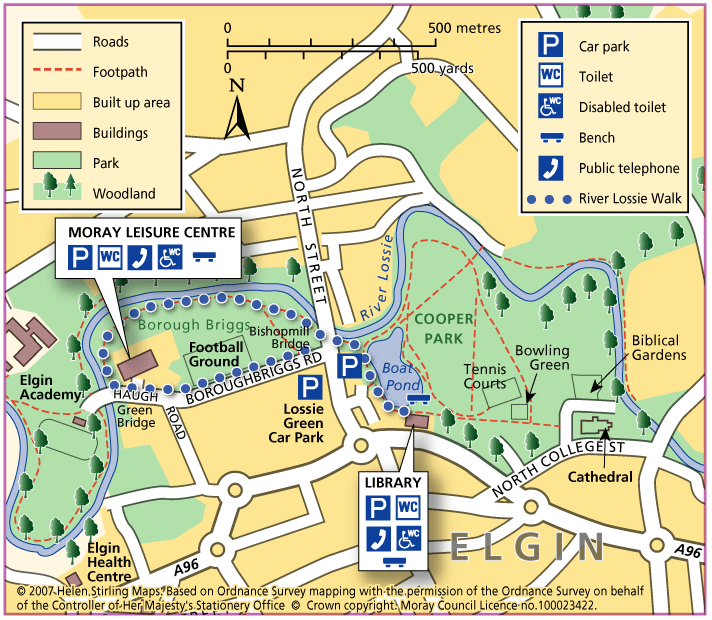 Report a route change

If you have followed this route and noticed any differences please report a route change by sending an email to: 
Download GPX
Download the GPX of this route for use on your GPS enabled device.
Start – Elgin Library
1. From the Library turn left & walk along the path by the boating pond.  Take the path to the left & go past, but do not cross, the red bridge on your right.
2. Walk along the path under the road bridge that follows the River Lossie round the back of the Moray Leisure Centre.
3. Turn left, following the pavement to the small roundabout in front of the leisure centre. Bear left and walk along Borough Briggs passing Elgin City Football Ground.
4. Before reaching the end of the road, turn left onto a diagonal path to rejoin the route under the road bridge & return to the library.