Elgin – Seafield Circular Walk
This circular walk follows part of the National Cyclepath into Cooper Park. The surfaces are good and suitable for wheelchairs and buggies, although there is an incline on Waterside Street. There are toilets and refreshments in the Library, on the other side of the Park.
---
[zoom zoomin=2]
1.4 miles (2.24 km)
30 minutes
Accessible for all users
Paved footpaths & roads
Generally level
No barriers
---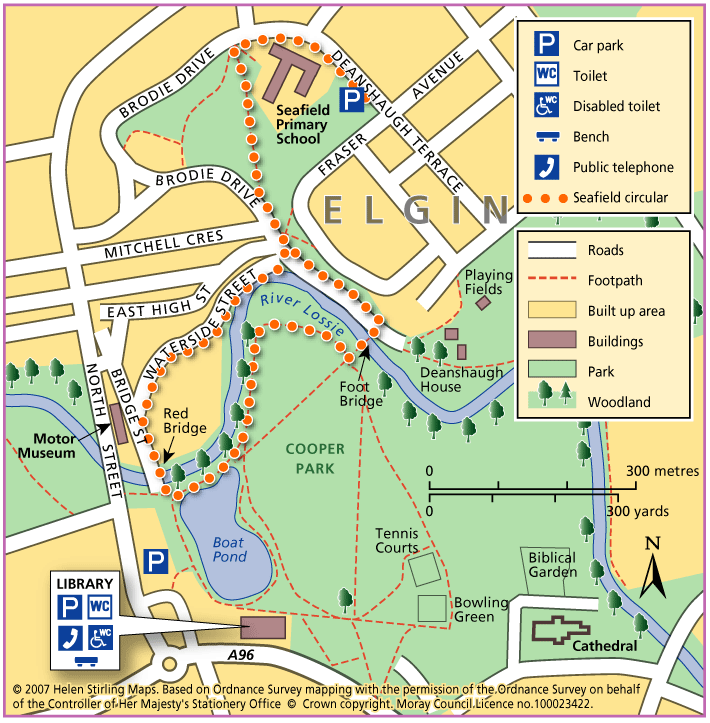 Report a route change

If you have followed this route and noticed any differences please report a route change by sending an email to: 
Download GPX
Download the GPX of this route for use on your GPS enabled device.
Start – Seafield Primary School
1. From the school, turn left and walk along Brodie Drive. Take the path on the left that descends diagonally through the park to rejoin Brodie Drive.
2. At the end of Brodie Drive continue ahead, bearing left onto the riverside path.
3. Walk along the path and cross the footbridge on the right. Then immediately turn right onto the track that follows the River Lossie around the edge of Cooper Park.
4. Cross the red bridge on the right then, opposite the Motor Museum, turn right down Waterside Street.
5. Turn left at the end of Waterside Street to rejoin Brodie Drive and walk back up through the park to the start.