This circular walk takes you along quiet roads, which head out to the west of Elgin past some beautiful old buildings. The route is along good paths and roads, and is suitable for wheelchairs and buggies, although some of the route (Old Mills Road and Jock Inkson's Brae) has no pavements and care is needed when walking along the road.
---
[zoom zoomin=2]
0.75 miles (1.2 km)
20 minutes
Accessibility: Accessible for all with care

Take care on road sections without pavements.

Gradient: Undulating

Some gentle inclines / declines.
---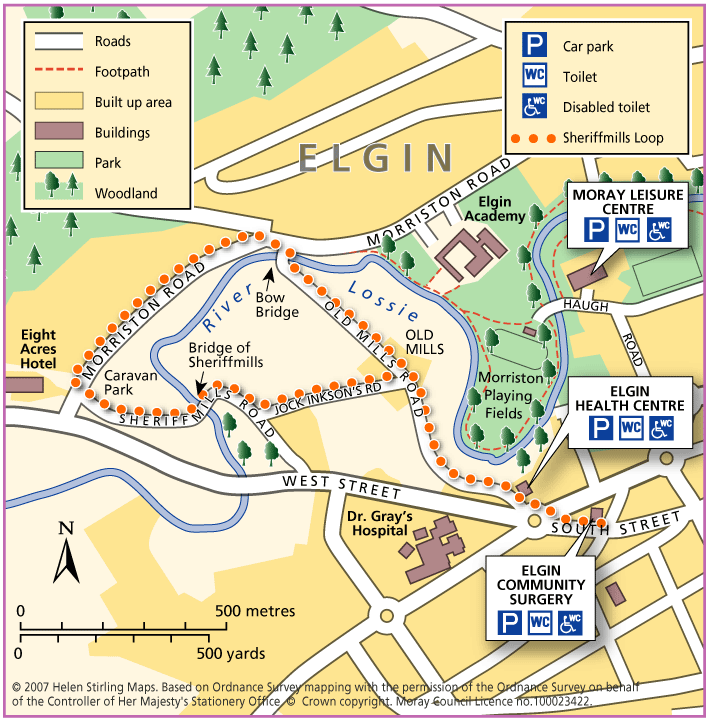 Report a route change

If you have followed this route and noticed any differences please report a route change by sending an email to: 
Send us a GPX track

We would like to offer GPS tracks of all routes on this site.

If you are able to help please create a GPX track of this route (no detours) and send it to us for inclusion.
Start – Elgin Community Surgery, Highfield House and Elgin Health Centre, Maryhill
1. From both of the health centres, walk to Dr Gray's Hospital roundabout.
2. At the roundabout, walk down Old Mills Road, (brown sign to Mary Well) passing Old Mills on the right.
3. Continue to the end of the road, crossing the River Lossie at Bow Bridge.
4. At the junction of Morriston Road, cross the road and turn left, walking along the footpath until you reach Eight Acres Hotel. Cross the road with care.
5. Walk down Sheriffmill Road, crossing the River Lossie again at the Bridge of Sheriffmills.
6. Turn left and walk along Jock Inkson's Brae to rejoin Old Mills Road.
7. Turn right and walk back to Dr Gray's roundabout and back to the start.
---
Links