The Elgin City Trail has a choice of locations to start from including a number of car parks and the main bus and train stations. Choose your own way of linking the historic features around Elgin.
---
[zoom zoomin=2]
2.5 miles (4 km)
1h 30 minutes
Accessibility: Suitable for a wide range of users

The nature of this route being primarily on urban tarmac paths adjacent to roads makes it most suitable for walkers and less able users. Riverside Path section could be difficult for the less physically able because of uneven surface and steps.

Paved footpaths & roads
Generally level

Barriers: Some barriers

Numerous road crossing, dependant upon your chosen route. Most of the main roads have traffic light controlled crossings or designated crossing places. Steps on the Riverside Path Section.
---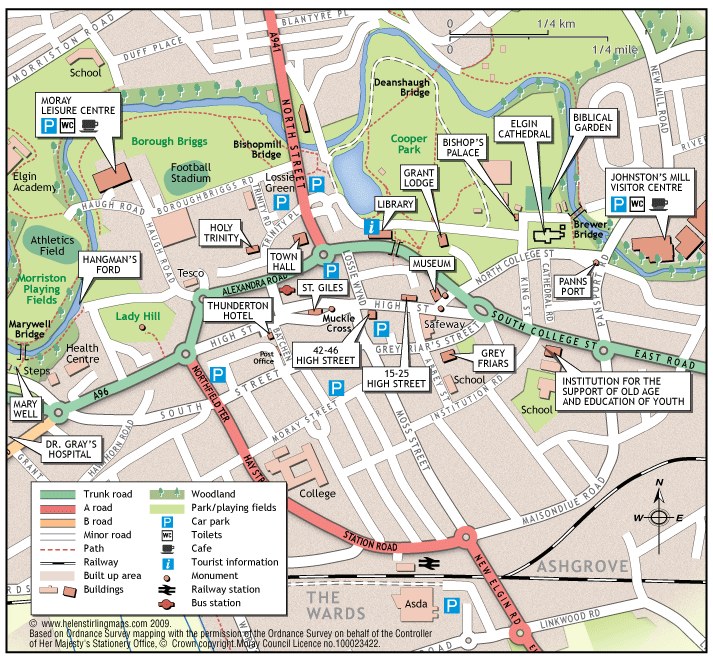 Report a route change

If you have followed this route and noticed any differences please report a route change by sending an email to: 
Send us a GPX track

We would like to offer GPS tracks of all routes on this site.

If you are able to help please create a GPX track of this route (no detours) and send it to us for inclusion.
Following the city trail is the ideal way of exploring Elgin's historical history as the route naturally takes you from features such as the Cathedral on the east side of Elgin centre through to Ladyhill on the west side. [A local leaflet with more detailed information on each historical feature along the route can be obtained from the Library and Museum in Elgin]
The trail also leads you to Elgin's many attractive parks such as Cooper Park with its boating pond and family orientated activities, the Biblical Garden and Leisure Centre for water based fun. The city centre itself being part pedestrianised has much appeal with its choice of shops, restaurants, hostelries and on market days, locally produced farm products.
The route (surface is of tarmac suitable for pedestrians and the less able) is a unique one combining the many historical features with accessible public amenities and a bustling city centre all being within a short distance.
---
Contact
Moray Council Outdoor Access Manager
---
Contact
Elgin Tourist Office
Elgin Library, Cooper Park, Elgin.
Telephone: 01343 542666