Mosstodloch – Gordon Baxter Way
This is a circular, level walk with good views of the countryside. The tracks can be muddy if wet and this walk shouldn't be undertaken on a windy day as it is exposed in places.
---
[zoom zoomin=2]
2 miles (3.2 km)
40 minutes
Unsuitable for wheelchairs and buggies

Terrain: Varied surfaces

Farm tracks and tarmac. Can be muddy.

Generally level
---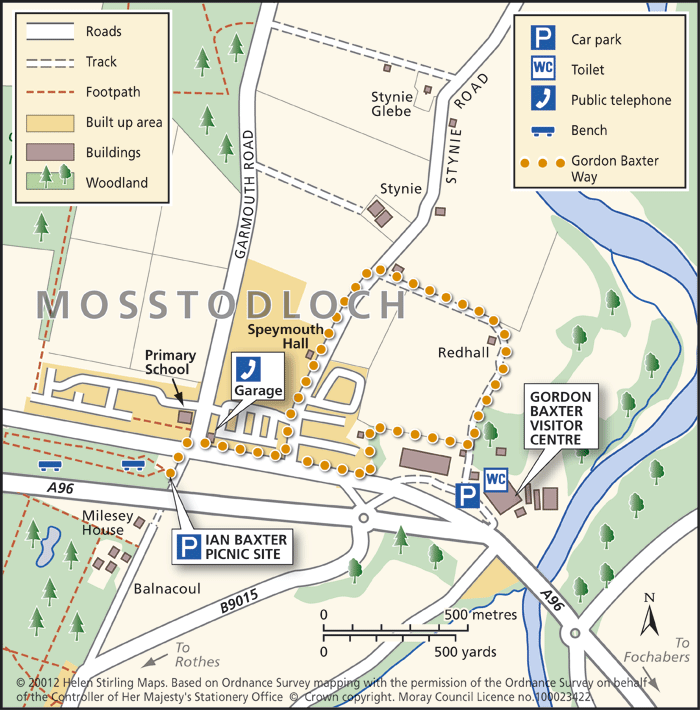 Report a route change

If you have followed this route and noticed any differences please report a route change by sending an email to: 
Send us a GPX track

We would like to offer GPS tracks of all routes on this site.

If you are able to help please create a GPX track of this route (no detours) and send it to us for inclusion.
Start – Balnacoul Car Park (Forestry Commission Offices, on the Rothes Road at Mosstodloch) or there are a few spaces at the Ian Baxter Picnic Site, just off the A96.
1. Cross the busy A96 with care and walk past the garage, turning left on the Stynie Road.
2. Continue past the Speymouth Hall and on to the path signed to Mosstodloch on the right.
3. Follow this track and turn right at the end of the field, just before the houses.
4. Take the small path to the right (behind Baxters), signed Gordon Baxter Way. Follow this track back to Mosstodloch as far as possible, turning left to the A96.
5. Cross the road back to the car park.