Mosstodloch – Stynie east
This is a good level walk along tracks and roads and has great countryside views. It shouldn't be attempted in really cold or windy weather as there are places where the track is very exposed.
---
[zoom zoomin=2]
3 miles (4.8 km)
1 hour(s)
Unsuitable for wheelchairs and buggies

Terrain: Varied surfaces

Country roads, farm tracks and compacted earth paths. Care to be taken on the road sections as no pavements.

Generally level
---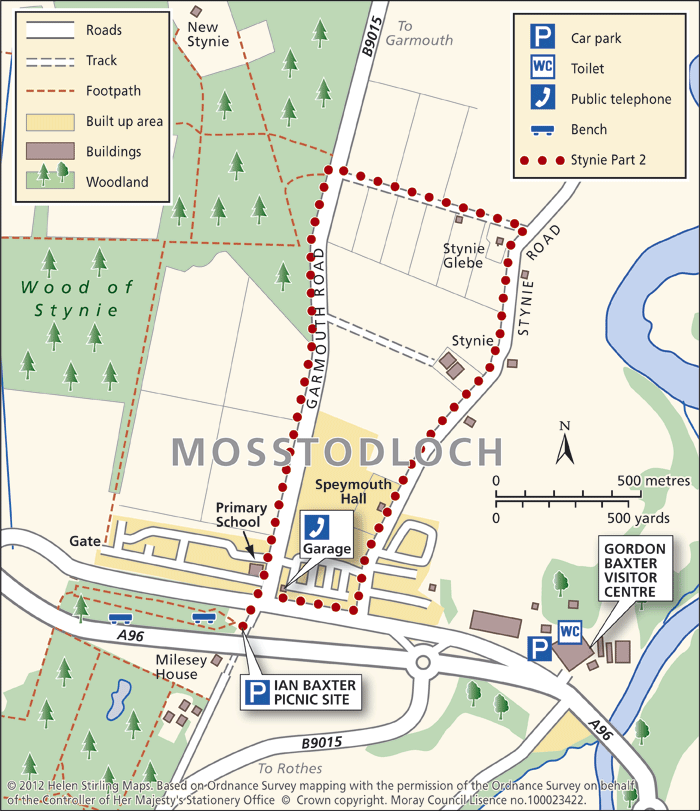 Report a route change

If you have followed this route and noticed any differences please report a route change by sending an email to: 
Send us a GPX track

We would like to offer GPS tracks of all routes on this site.

If you are able to help please create a GPX track of this route (no detours) and send it to us for inclusion.
Start – Balnacoul Car Park (Forestry Commission Offices, on the Rothes Road at Mosstodloch) or there are a few spaces at the Ian Baxter Picnic Site, just off the A96.
1.From the car park, cross the A96 and head down the Garmouth Road, past Mosstodloch into the open countryside (take care, no pavements).
2. Turn right at the track signposted to Glebe, following the track until you reach the Stynie Road.
3.Turn right and follow the road back to Mosstodloch, turning right onto the A96.
4. Cross the A96 back to Balnacoul.