Tomintoul – Old Military Road
This linear walk follows the old military road out of Tomintoul heading to Alltachbeg. The track is undulating and wide but rutted and muddy in parts, needing sturdy footwear or wellies depending on how wet it is. The views are tremendous though, and worth the effort to see the hills and open heather moorland stretching out before you.
---
[zoom zoomin=2]
2 miles (3.2 km)
45 minutes
Unsuitable for wheelchairs and buggies

Terrain: Uneven terrain

Gravel track - pot holed and can be muddy in wet weather.

Undulating
No barriers
---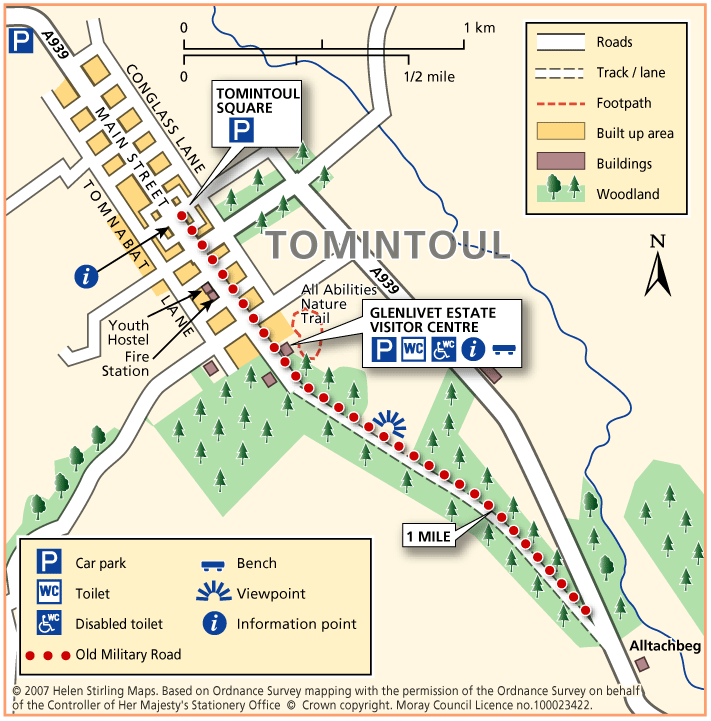 Report a route change

If you have followed this route and noticed any differences please report a route change by sending an email to: 
Send us a GPX track

We would like to offer GPS tracks of all routes on this site.

If you are able to help please create a GPX track of this route (no detours) and send it to us for inclusion.
Start – Tomintoul Square, car park in front of Richmond Hotel.
1 From the Square, turn left and walk to the end of the road, passing Tomintoul Youth Hostel and Fire Station on the right.
2 Continue straight ahead onto the track, passing the Glenlivet Estate Visitor Centre on the left (toilets and benches).
3 Continue for 10 minutes, passing the field with horses and into an open area, cleared of trees. This is 1 mile from the start in the Square, so turning back here would be a 2
mile walk.
4 The distance along the whole of the track to Alltachbeg is nearly 3 ¾ mil