Archiestown – Cairn Cattoch
Cairn Cattoch Walk is one of several waymarked walks within the forest to the north of Archiestown.
---
[zoom zoomin=2]
5 miles (8 km)
130 meters (426 ft)
2h 30 minutes
Accessibility: Suitable for a wide range of users

The route is suitable for a wide range of users, although cyclists may require to dismount on the short section to the viewpoint

Terrain: Forest tracks

Mainly on forest track. There is a short section of rough earth path through heather to reach the summit viewpoint. Stout footwear is advised

Gradient: Mixed gradient

Long gentle climb along most of route, with a steeper section leading to the viewpoint. A total climb of 130 metres (390ft) with the summit sitting at 369 metres (1120ft) above sea level

No barriers
Fully signed
---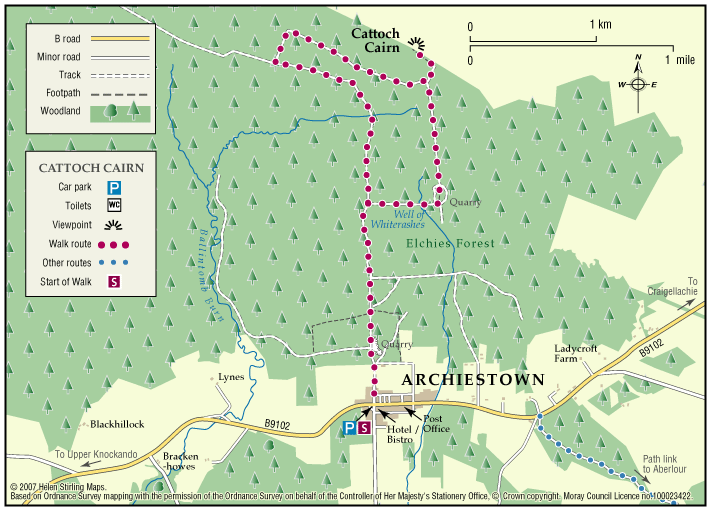 Report a route change

If you have followed this route and noticed any differences please report a route change by sending an email to: 
Send us a GPX track

We would like to offer GPS tracks of all routes on this site.

If you are able to help please create a GPX track of this route (no detours) and send it to us for inclusion.
The village of Archiestown is one of the highest in Moray, standing at 237 metres (777ft) above sea level. It is situated on the B9102 scenic route to Grantown on the south facing slopes of the Moor of Ballintomb to the north of the River Spey.
The village was founded in 1760 by Sir Archibald Grant of Monymusk, who established it as a community of linen weavers. It still retains much of the character of the eighteenth century planned settlement and is designated a Conservation Village.
The route starts in the village centre at the timber finger post. Follow this sign north along the tarmac road to the entrance of the forest, and from here follow the yellow banded waymarkers.
The route travels along the forest roads all the way except for a short section of heather at the summit. The route passes to the left of a forestry quarry, which is geologically situated on the edge of the Rinnes granite. This granite was intruded into the indigenous rock, a very hard quartzite some 400 million years ago. Both rock types can be seen at the quarry.
At the summit there are extensive views of the surrounding countryside from the Cairngorms in the south to the Northern Highlands visible between the forested hills of the Rothes Estate
---
Contact
Moray Council Outdoor Access Manager
---
Contact
 Forestry and Land Scotland – Huntly Office
Tel: 0300 067 6380
Portsoy Road, Huntly AB54 4SH