Buckie – Barhill Circular
This is a circular walk along level roads and pavements and is suitable for wheelchairs and buggies. It includes great views from Seafield Hospital and Seaview Road, where there are benches to enjoy the panorama.
---
[zoom zoomin=2]
1 miles (1.6 km)
20 minutes
Accessible for all users
Paved footpaths & roads
Generally level
Partly signed
---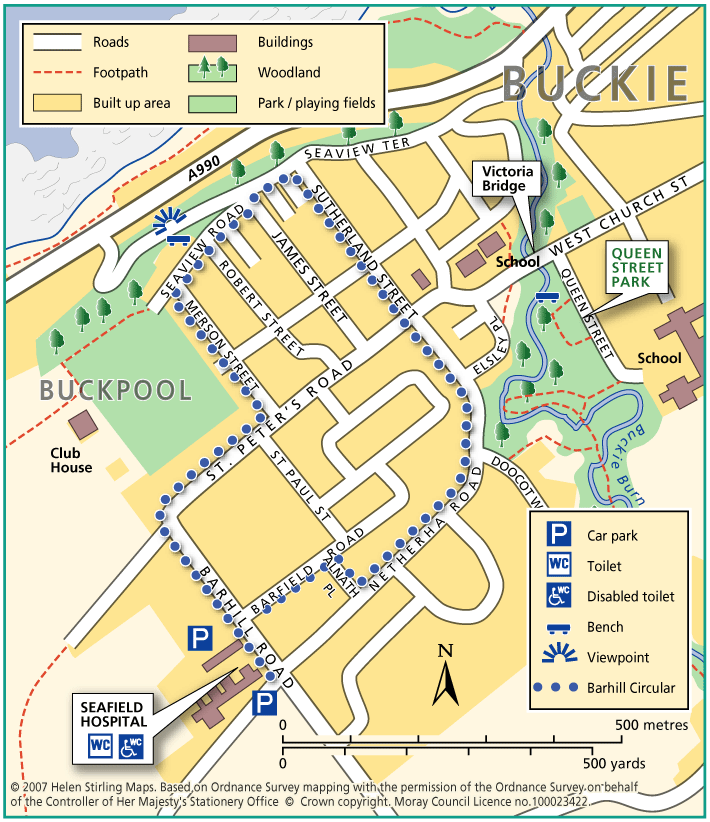 Report a route change

If you have followed this route and noticed any differences please report a route change by sending an email to: 
Send us a GPX track

We would like to offer GPS tracks of all routes on this site.

If you are able to help please create a GPX track of this route (no detours) and send it to us for inclusion.
Although in a built up setting, the walk provides some excellent views over the Moray Firth and the rising countryside to the south.
Start: From the Hospital, turn left down Barhhill Road to St Peter's Road, bearing right.
Continue along St Peter's Road, taking the first left, Merson Street.
At the end of Merson Street, turn right into Seaview Road and continue until the junction with Sutherland Street on the right (no sign, but 6th street on the right).
Walk along Sutherland Street, crossing St Peter's Road, until it leads into Netherha Road.
From Netherha Road, turn right into Alnath Place and then left into Barfield Road and back to the start.