Buckie – Circular Town Walk
Although this circular walk is in town, there are excellent views of countryside and over the Moray Firth, making it an enjoyable walk any time of year. The route is along level paved surfaces and it is suitable for wheelchairs and buggies. There are benches and seats along the route.
---
[zoom zoomin=2]
1.75 miles (2.8 km)
35 minutes
Accessible for all users
Paved footpaths & roads

Gradient: Undulating

Slight hill at Douglas Crescent.

Unsigned
---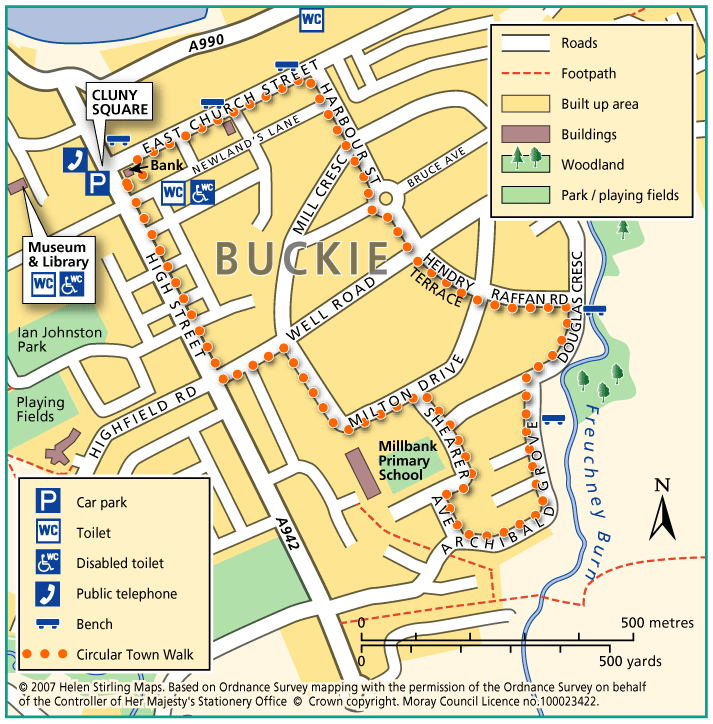 Report a route change

If you have followed this route and noticed any differences please report a route change by sending an email to: 
Send us a GPX track

We would like to offer GPS tracks of all routes on this site.

If you are able to help please create a GPX track of this route (no detours) and send it to us for inclusion.
Start – Cluny Square
1. Starting at Clydesdale Bank in the corner of Cluny Square, turn right and walk along East Church Street until the junction with Harbour Street on the right.
2. Walk along Harbour Street, continuing straight over at the roundabout. Continue walking down Harbour Street, which leads on to Hendry Terrace and then Raffan Road.
3. At the end of Raffan Road, turn right into Douglas Crescent and continue up the slight hill.
4. At the top of the hill, turn left into Archibald Grove and then right into Shearer Avenue.
5. Pass Millbank Primary School on the left and turn left at the junction with Milton Drive.
6. Continue to the junction with Well Road, where you turn left and join the High Street. Turn right and walk back to Cluny Square.