Buckie – Mill of Buckie Circular
This circular walk is along country lanes, tracks and paved streets and is not suitable for wheelchairs or buggies. Parts of the route can be muddy in wet weather.
---
[zoom zoomin=2]
2.5 miles (4 km)
50 minutes
Unsuitable for wheelchairs and buggies

Terrain: Varied surfaces

Tarmac pavements and farm track which can be muddy.

Generally level

Barriers: Some barriers

Narrow bridge with steps at Mains of Buckie.

Partly signed
---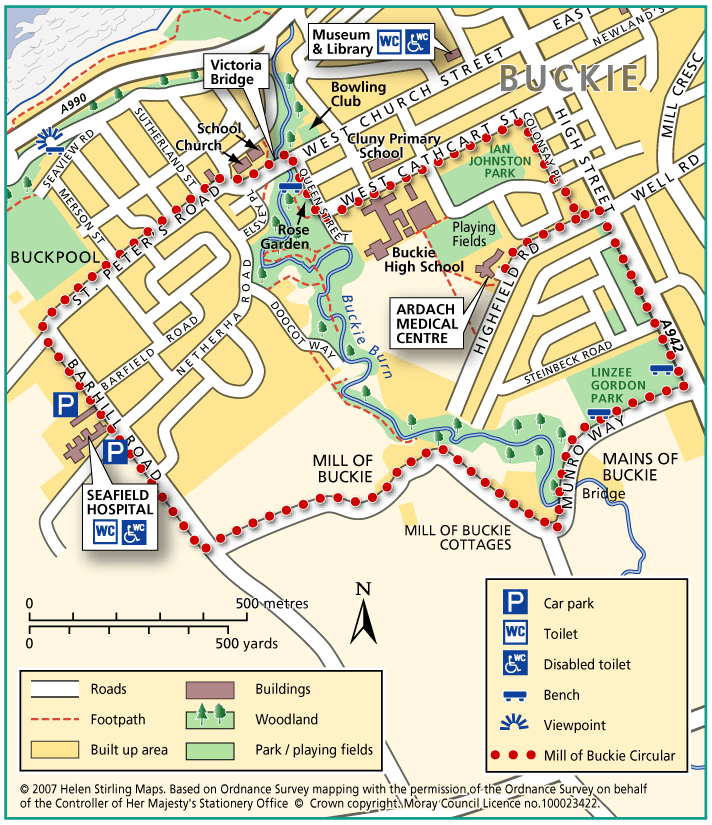 Report a route change

If you have followed this route and noticed any differences please report a route change by sending an email to: 
Send us a GPX track

We would like to offer GPS tracks of all routes on this site.

If you are able to help please create a GPX track of this route (no detours) and send it to us for inclusion.
Start – Seafield Hospital / Ardach Medical Centre
1. From Seafield Hospital, turn left and walk down Barhill Road, turning right into St Peter's Road.
2. Walk along to St Peter's Church on St Andrew's Square and head along West Church Street, crossing Victoria Bridge.
3. Turn right into Queen's Street, passing the rose garden on the right.
4. Take the 2nd road to the left and continue along West Cathcart Street, passing Buckie High School on the right and Cluny Primary School on the left.
5. Turn right into Colonsay Place (lane between houses), cross over a road and walk to the end.
6. Turn left into Highfield Road – walkers starting at Ardach Medical Centre join here.
7. Turn right into High Street and walk past Linzee Gordon Park, taking the first road to the right after the park, Munro Way.
8. Follow Munro Way heading straight ahead along the farm track towards Mains of Buckie.
9. Continue along the track and cross the bridge at the Mains of Buckie (this can be very muddy) and continue to the T- junction.
10. Turn right at the T junction and walk to the end, joining Barhill Road. Turn right and return to Seafield Hospital.