Buckie – Portessie Circular
This circular route starts in east Buckie and includes great coastal views over the Moray Firth. Because the route is very near to the shore for part of the way, it is very exposed to cold, strong winds from the sea. There are benches along the way. The surfaces are good and the only hill is on Station Road, which is fairly steep.
---
[zoom zoomin=2]
2 miles (3.2 km)
45 minutes
Accessible for all with care

Terrain: Paved footpaths & roads

No pavement on Station Road.

Gradient: Short steep sections

Steep slope at Station Road.

Barriers: Some barriers

No drop kerbs on Rathburn Street.

Partly signed
---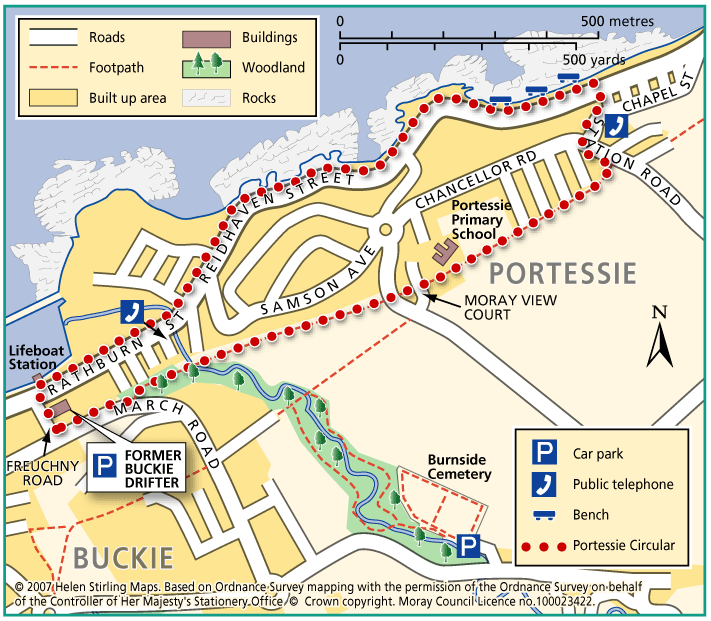 Report a route change

If you have followed this route and noticed any differences please report a route change by sending an email to: 
Send us a GPX track

We would like to offer GPS tracks of all routes on this site.

If you are able to help please create a GPX track of this route (no detours) and send it to us for inclusion.
Start – Car Park at March Road (former Buckie Drifter)
1. From the car park turn right and walk to the harbour on Rathburn Street.
2. Turn right and proceed along Rathburn Street, leading into Reidhaven Street and onto Great Eastern Road.
3. Walk along the shore road past the bus shelter on the left and turn right into Station Road.
4. Walk up Station Road (steep hill) and turn right at the top of the hill, along the signed cycle path.
5. Follow the path past Portessie Primary School on the right, crossing the road onto the tarmac path through the staggered barrier at the end.
6. At the end of the path, turn right and return to the car park.
Features: Look out for seals along the coastal section.