This circular walk has some great coastal views over the Moray Firth and open countryside. The walk can be shortened by cutting along the path opposite Moray View Court.
---
[zoom zoomin=2]
2 miles (3.2 km)
40 minutes
Unsuitable for wheelchairs and buggies
Paved footpaths & roads
Short steep sections

Barriers: Some barriers

Walking on road in places.

Partly signed
---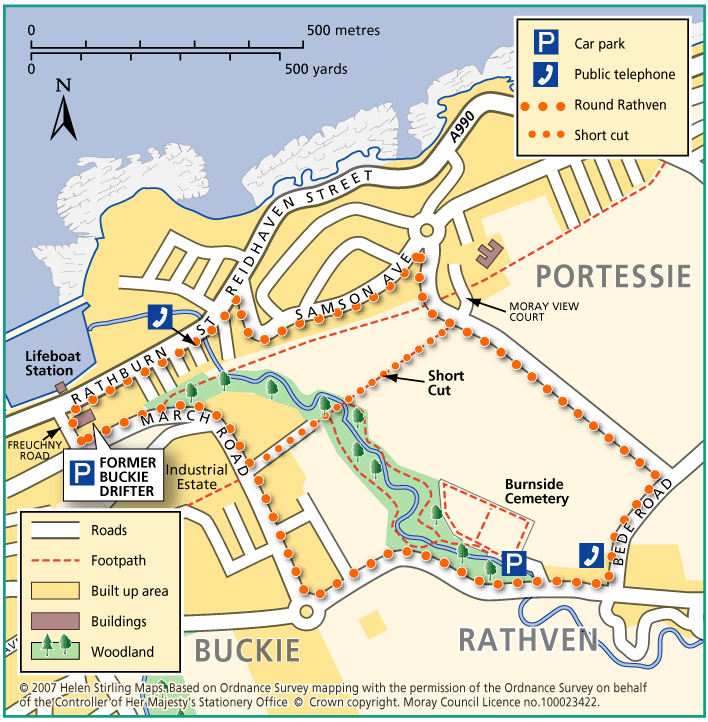 Report a route change

If you have followed this route and noticed any differences please report a route change by sending an email to: 
Send us a GPX track

We would like to offer GPS tracks of all routes on this site.

If you are able to help please create a GPX track of this route (no detours) and send it to us for inclusion.
It can be a little exposed in places and there are no seats along the way. Care needs to be taken as there are no pavements along some of the route and there are some steep sections, making it a little difficult for wheelchairs and buggies, although the surface is good. There are toilets at the harbour.
Start – Car Park at March Road (beside former Buckie Drifter)
1. Starting at the car park, turn left up the hill following March Road round to the right passing the industrial estate and onto March roundabout.
2. Take the first road left towards Rathven, past Burnside Cemetery and continuing until you reach the village.
3. Turn left at Bede Road opposite the graveyard and continue out into the countryside.
4. Take the first road on the left and continue until you reach the mini roundabout. (The short cut is on the left opposite Moray View Court, it takes you back to March Road, where you turn right and walk back to the car park).
5. At the mini roundabout, take the first left into Samson Avenue and walk to the end.
6. Turn left into Reidhaven Street which leads into Rathburn Street.
7. By the Lifeboat Station, turn left into Freuchny Road and back to the car park.