Burghead – Clarkly Hill Circular
A circular walk starting in the Pictish Fort town of Burghead and passing through farmland and rocky shores, with stunning views of the Moray Firth along the ridge of Clarkly Hill.
---
[zoom zoomin=2]
3.5 miles (5.6 km)
1h 45 minutes
Unsuitable for wheelchairs and buggies

Terrain: Varied surfaces

Tarred pavements & roads, gravel paths, and earth/grass paths along the Clarkly Hill sections. Note: the earth paths are rough and uneven in places and can be muddy.

Gradient: Generally level

A gentle slope rising from the Burghead - Lossiemouth road to Clarkly Hill

Fully signed
---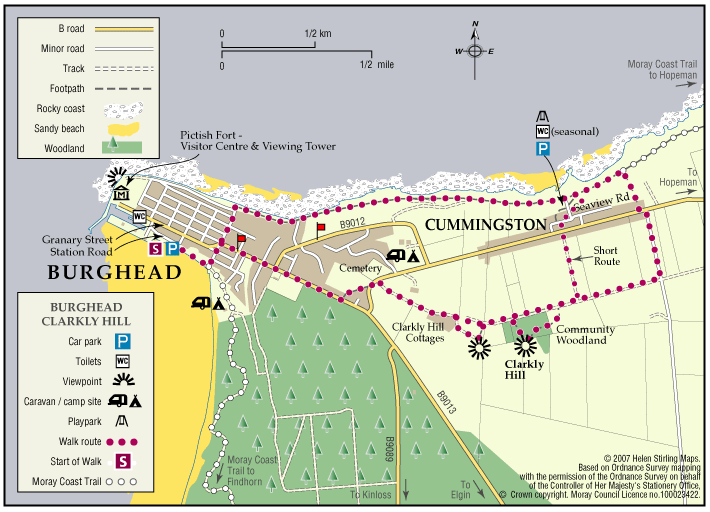 Report a route change

If you have followed this route and noticed any differences please report a route change by sending an email to: 
Send us a GPX track

We would like to offer GPS tracks of all routes on this site.

If you are able to help please create a GPX track of this route (no detours) and send it to us for inclusion.
Start – Burghead Harbour car park.
The Route: A circular route in either direction, following the signs featuring the yellow bull logo.
The route explores a variety of landscapes, including raised farmland and coastal scenery. The view from the top of Clarkly Hill is a spectacular vista over the Moray Firth, where on a clear day you can see distant Caithness.
Part of the route links Cummingston to Burghead along the old railway.
---
Contact
Moray Council Outdoor Access Manager
---
Links