This walk is an extension of the town walk, which includes gravel paths and grass tracks which would make it unsuitable for wheelchairs and buggies. It includes great coastal views over the Moray Firth, with the possibility of dolphin watching.
---
[zoom zoomin=2]
1.5 miles (2.4 km)
30 minutes
Accessibility: Unsuitable for wheelchairs and buggies

Unsuitable for wheelchairs and most buggies due to grass section.

Terrain: Varied surfaces

Town Walk section all on tarmac pavements. Gravel footpath and grass.

Short steep sections
No barriers
Fully signed
---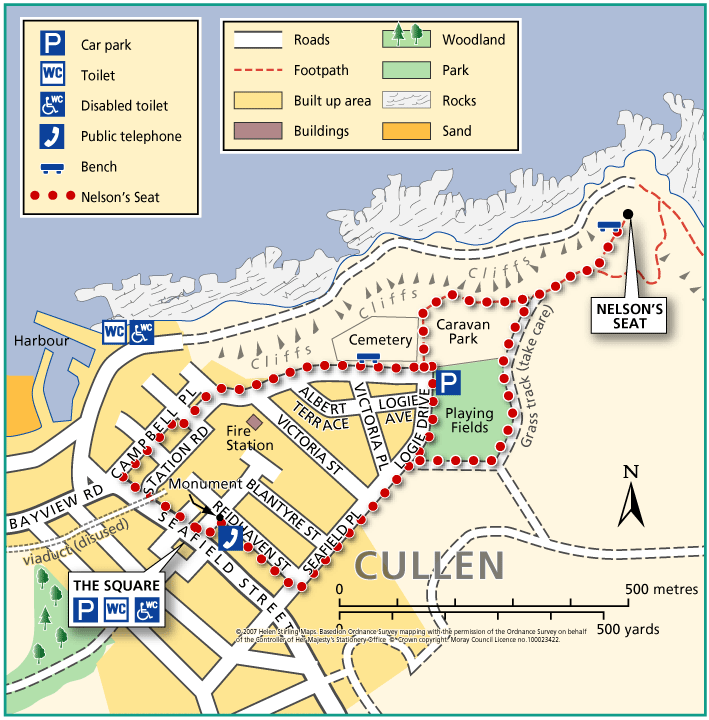 Report a route change

If you have followed this route and noticed any differences please report a route change by sending an email to: 
Send us a GPX track

We would like to offer GPS tracks of all routes on this site.

If you are able to help please create a GPX track of this route (no detours) and send it to us for inclusion.
Start – Cullen Square
1. Turn right and walk down Seafield Street, under the viaduct.
2. Turn right into Campbell Place and continue to the end, turn right.
3 Follow the road up the hill, passing the fire station on the right.
4. At the top of the hill follow the signpost to Nelson's Seat, along the tarmac road passing the cemetery.
5. Turn sharp left at the cemetery wall, and walk along the gravel path passing the caravan site on the right.
6. Take the path to the left at the junction, following the sign to Nelson's Seat.
7. Walk back along the path, taking the grass track to the left at the caravan park and passing the playing field.
8. Continue along Logie Drive into Seafield Place and then right into Reidhaven Street. Walk to the monument, then left and back to Cullen Square.