Cullen is built on a hill and this circular town walk has a few steep slopes. The surfaces are good and it is suitable for wheelchairs and buggies, although it will be hard work on the slopes. There are toilets at the start and benches along the route. The views will be worth it! This walk can be extended to follow the path to Nelson's Seat.
---
[zoom zoomin=2]
0.75 miles (1.2 km)
15 minutes
Accessibility: Accessible for all users

The extended walk to Nelson's seat is not suitable for wheelchairs or most buggies.

Terrain: Paved footpaths & roads

Gravel and grass paths on extended route to and from Nelson's Seat.

Gradient: Short steep sections

Long, fairly steep descent from the town square under the viaduct, leading to a short steep section at Campbell Place. There is also a short steep decline from Reidhaven Place back down into the square.

No barriers
Fully signed
---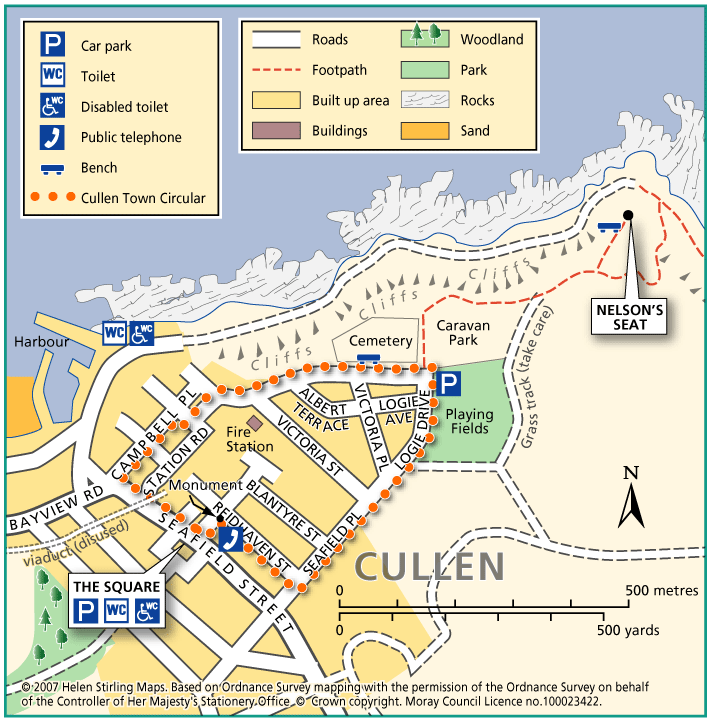 Report a route change

If you have followed this route and noticed any differences please report a route change by sending an email to: 
Send us a GPX track

We would like to offer GPS tracks of all routes on this site.

If you are able to help please create a GPX track of this route (no detours) and send it to us for inclusion.
Start – The Square, Cullen
1. Turn right and walk down Seafield Street, under the viaduct.
2. Turn right into Campbell Place and continue to the end, turn right.
3 Follow the road up the hill, passing the fire station on the right.
4. At the top of the hill follow the signpost to Nelson's Seat, along the tarmac road passing the cemetery. Turn sharp right at the cemetery junction, along Logie Drive, following the road as it leads into Seafield Place.
5. Turn right into Reidhaven Street and walk to the monument, turning left and back to Cullen Square.
Features: Excellent views over Buckie harbour and Moray Firth from East Church Street.