Dufftown – Balvenie Castle
This circular walk has some steep inclines and is not suitable for wheelchairs or buggies because of the terrain. It includes some woodland and has good views of the ruined castle.
---
[zoom zoomin=2]
1.25 miles (2 km)
30 minutes
Unsuitable for wheelchairs and buggies

Terrain: Varied surfaces

Tarmac pavements, compacted earth and gravel tracks. Note that the earth track in the wood is quite narrow and can be muddy/ slippy in wet weather. Watch out for tree roots.

Gradient: Short steep sections

Some steep inclines / declines, with the steepest on a ramped path section within the woodland.

Barriers: Some barriers

Long flight of steps in wood.

Partly signed
---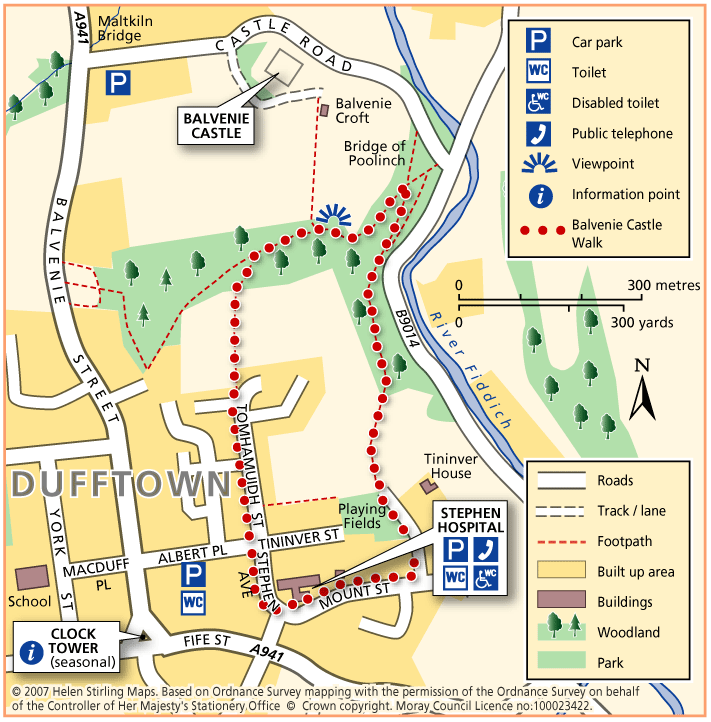 Report a route change

If you have followed this route and noticed any differences please report a route change by sending an email to: 
Send us a GPX track

We would like to offer GPS tracks of all routes on this site.

If you are able to help please create a GPX track of this route (no detours) and send it to us for inclusion.
Start – Stephen Hospital
1. Turn left out of the hospital and walk along Mount Street, following the sign to the Castle.
2. Walk past the playing field then straight on, following the track.
3. At a 3-way junction, turn left heading uphill. At the top you will see Balvenie Castle on the right. Carry on to the junction.
4. Take the fork to the left out of the woods and walk back along Tomhamuidh Street which leads into Stephen Avenue and back to the Hospital.