This is a short circular walk with some inclines along a variety of surfaces, from paved to woodland dirt tracks. There are some steps through the wooded area which make it unsuitable for wheelchairs or buggies. There are benches along the route.
---
[zoom zoomin=2]
1.25 miles (2 km)
30 minutes
Unsuitable for wheelchairs and buggies

Terrain: Varied surfaces

Tarmac pavements, compacted earth and gravel tracks. Note that the earth track in the wood is quite narrow and can be muddy/ slippy in wet weather. Watch out for tree roots. The tarmac surface on Cowie Avenue is quite badly pot-holed.

Gradient: Short steep sections

Several inclines / declines throughout. Note that there is a fairly steep decline down Church Street and a steady incline back up Fife Street.

Barriers: Some barriers

There are steps within the woodland.

Partly signed
---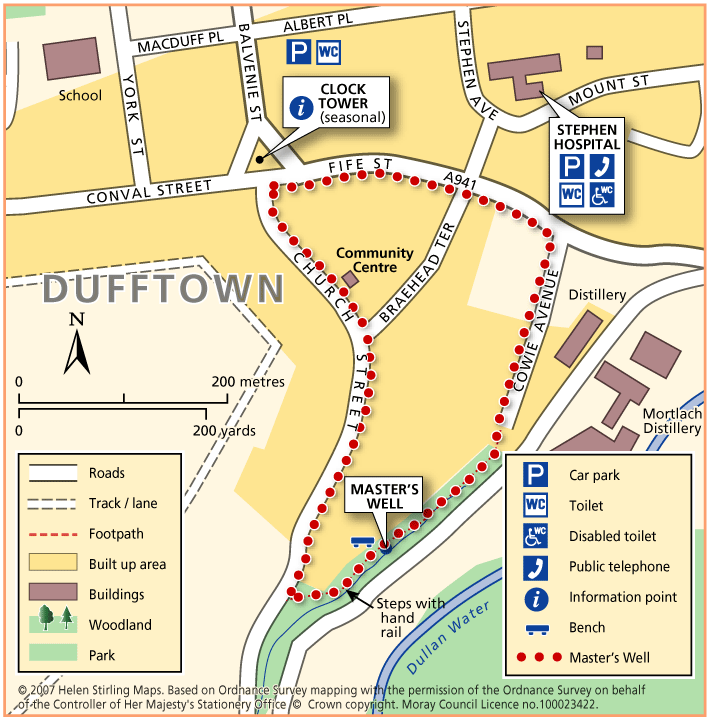 Report a route change

If you have followed this route and noticed any differences please report a route change by sending an email to: 
Send us a GPX track

We would like to offer GPS tracks of all routes on this site.

If you are able to help please create a GPX track of this route (no detours) and send it to us for inclusion.
The Clock Tower is a seasonal Tourist information Office and it is worth looking in to find out more of the history and heritage of Dufftown, as well as picking up the leaflets on other local walks.
Start – Clock Tower, Dufftown
1. From the Clock Tower, head down Church Street past the Community Centre and continue until a signpost to the left points the way to Masters Well.
2. Follow the path under the trees as it goes down the hillside, keeping to the left at the junction.
3. Masters Well is on the left, by the benches, continue along the track, bearing left out of the wood onto Cowie Avenue.
4. Pass the Distillery buildings on the right and continue to the junction with Fife Street.
5. Turn left up Fife Street back to the Clock Tower.