Dufftown is built on a hill and surrounded by hills, giving great views of the countryside but challenging to walkers. The Town Walk includes some inclines, but is all on good pavements and is suitable for wheelchairs and buggies.
---
[zoom zoomin=2]
1 miles (1.6 km)
20 minutes
Accessible for all users
Paved footpaths & roads
Undulating
Fully signed
---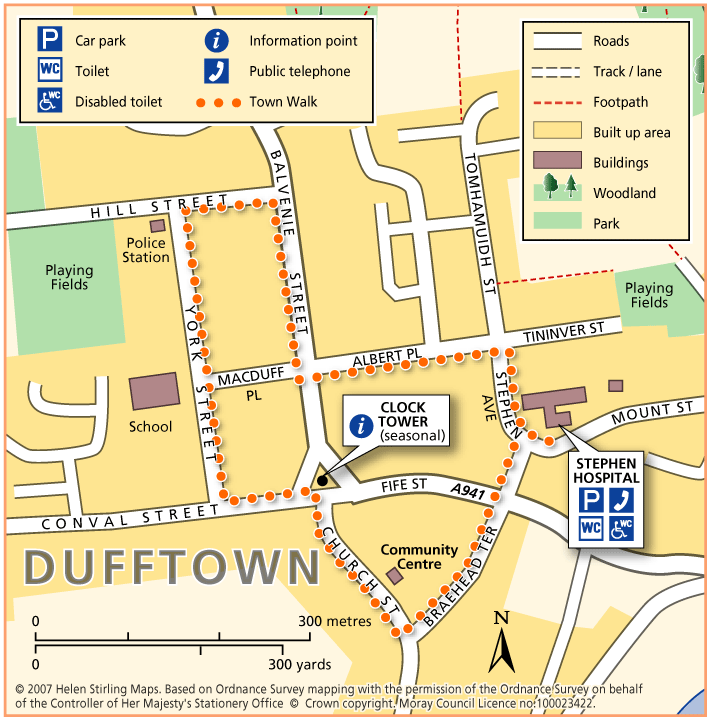 Report a route change

If you have followed this route and noticed any differences please report a route change by sending an email to: 
Send us a GPX track

We would like to offer GPS tracks of all routes on this site.

If you are able to help please create a GPX track of this route (no detours) and send it to us for inclusion.
Start – Stephen Hospital
1. From the Hospital, turn right and walk along Stephen Avenue.
2. Turn left along Albert Place to the junction with Balvenie Street.
3. Turn right and walk down Balvenie Street and turn left at Hill Street.
4. Turn left at the Police Station, walking along York Street to the end.
5. Turn left along Conval Street to the Clock Tower. Cross the road here and walk down Church Street, turning left down Braehead Terrace.
6. Cross the main road and continue along Braehead Terrace to the junction with Stephen Avenue by the Hospital.
---
Links