Fochabers – Fochabers Burn
This walk follows the Burn from one end of Fochabers to the other and back again. The track can be muddy in places if there has been a lot of rain. There are benches at the start and also beside the bridge at West Street.
---
[zoom zoomin=2]
1.5 miles (2.4 km)
30 minutes
Accessibility: Unsuitable for wheelchairs and buggies

Unsuitable for Wheelchairs and buggies, but can go as far as the viewing platform at the Famous Fochaberian Garden.

Terrain: Gravel path

Gravel and earth paths, so can be muddy when wet. Can also be long grass and overhanging vegetation at the side of the path.

Generally level
No barriers
---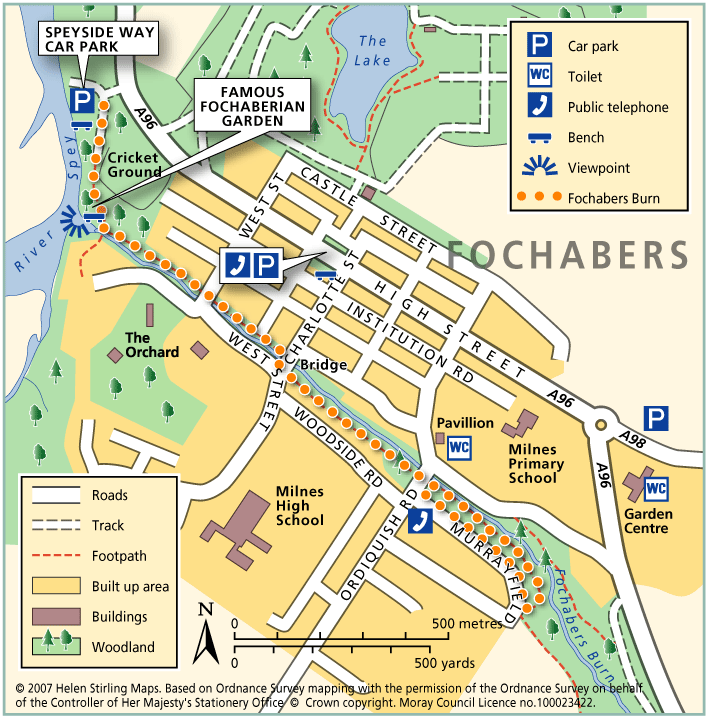 Report a route change

If you have followed this route and noticed any differences please report a route change by sending an email to: 
Send us a GPX track

We would like to offer GPS tracks of all routes on this site.

If you are able to help please create a GPX track of this route (no detours) and send it to us for inclusion.
The route passes the famous Fochaberian Garden which has picnic benches and a viewing platform accessible for wheelchairs and buggies.
Start – Speyside Way Car Park beside Fochabers Cricket Ground, off A96
1. From the car park, follow the track past the Spey on the right.
2. At the burn, turn left, following the yellow arrows until you reach the bridge at West Street.
3. Dogleg over the burn, following the yellow arrows and keeping the burn on your left.
4. At Ordiquish Road, turn right then left into Murrayfield.
5. At the top of the road, follow the path left into the woods, then left again to follow the burn back to Ordiquish Road.
6. Return back the same way to the Car Park.