This is a circular route on good paths with 1 steep road section at the start but then relatively flat. The walk is under a tree canopy most of the time. In autumn and winter the fallen leaves can be knee high! You can extend the walk by joining other paths round the hill.
---
[zoom zoomin=2]
1.25 miles (2 km)
30 minutes
Suitable for buggies but not wheelchairs

Terrain: Paved footpaths & roads

Tarmac and gravel paths - can be muddy.

Gradient: Generally level

One steep road section, then generally level.
---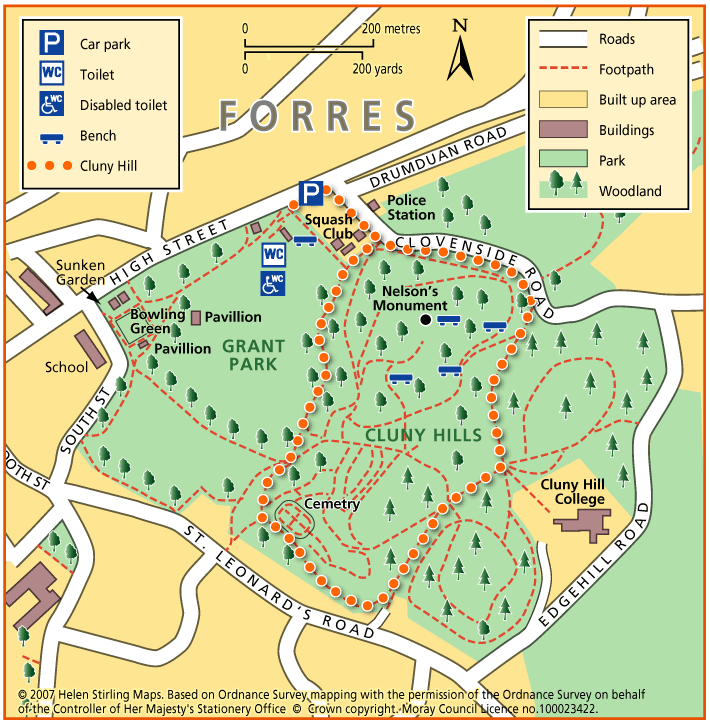 Report a route change

If you have followed this route and noticed any differences please report a route change by sending an email to: 
Send us a GPX track

We would like to offer GPS tracks of all routes on this site.

If you are able to help please create a GPX track of this route (no detours) and send it to us for inclusion.
Start – Car Park on east of Grant Park (by the Police station)
1. From the Car Park, go right past the garage and then right again up Clovenside Road. (This is steep and there is no pavement so care required)
2. Turn right into the woods just past the Steiner School sign on the left.
3. Follow the path ignoring two paths to the right, until you reach a large junction where you turn right (signed).
4. At the next junction, go down the hill and about half way down take the path to the right, past the cemetery and finishing at the Lodge House.
5. Take the low path to the right under the trees back to Clovenside Road, or cross the park to the Bowling Pavilion and take the path back to the Car Park.
Suitable for buggies but not wheelchairs.
---
Links