Forres – Dyke & Kintessack Circular
A circular route linking the rural communities of Dyke and Kintessack, with a spur to Broom of Moy, and on to the wider network of paths around Forres.
---
[zoom zoomin=2]
6.5 miles (10.4 km)
3 hour(s)
Unsuitable for wheelchairs and buggies

Terrain: Varied surfaces

Minor tarmac roads, forest tracks, earth paths, and short sections of gravel paths. NOTE: In the winter a short section of the path between Dyke and Culbin Forest (at Loanhead) can be very wet. Waterproof boots or wellingtons are advised.

Generally level

Barriers: Some barriers

Bridge with steps located at Wellhead.

Fully signed
---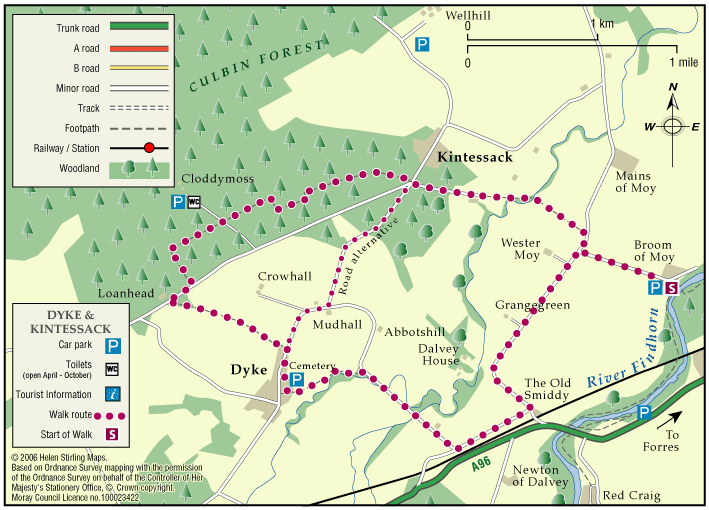 Report a route change

If you have followed this route and noticed any differences please report a route change by sending an email to: 
Send us a GPX track

We would like to offer GPS tracks of all routes on this site.

If you are able to help please create a GPX track of this route (no detours) and send it to us for inclusion.
Start – Dyke Community Hall Car Park.
Signing: The route is marked with timber finger posts and waymarkers with LIGHT BLUE arrows.
A signed shortcut is available that links Dyke and Kintessack directly along the minor road, allowing users the option of two shorter loops.
---
Contact
Moray Council Outdoor Access Manager