This is a pleasant circular route through parkland, on good paths around the park. There are places to rest in the park. In spring and summer the flowerbeds are very picturesque. In autumn the trees are spectacular but beware of fallen leaves on the paths, which can make them very slippy if wet. You can extend this walk by joining onto Cluny Hill paths.
---
[zoom zoomin=2]
0.75 miles (1.2 km)
17 minutes
Accessible for all users
Paved footpaths & roads
Generally level
---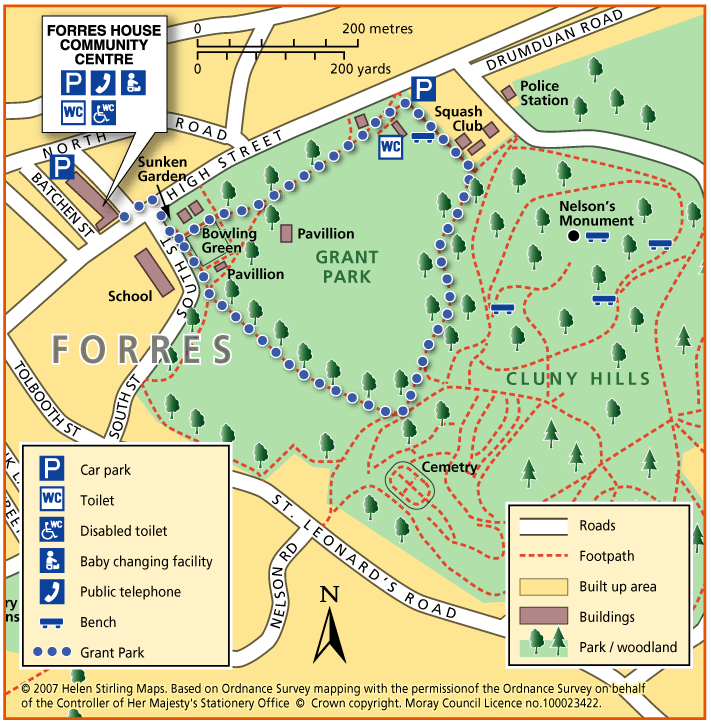 Report a route change

If you have followed this route and noticed any differences please report a route change by sending an email to: 
Send us a GPX track

We would like to offer GPS tracks of all routes on this site.

If you are able to help please create a GPX track of this route (no detours) and send it to us for inclusion.
Start – Either from Forres House Community Centre or Car Park east of Grant Park (by the Police station)
1. From the Community Centre, cross the High Street and walk down South Street past the Sunken Garden on your left.
2. Join the path by the Bowling Pavilion, heading towards the trees on Cluny Hill and crossing the park.
3. Turn left along the path under the trees and left again at the Squash Club.
4. At the toilets, go left along the path back to the Sunken Garden.
You can extend this walk by joining onto Cluny Hill paths.
---
Links