This is a very pleasant walk with trees, flowerbeds and birds. The paths are all good although if it has been very wet they may be a little muddy in places. There are places to sit and rest throughout the walk. You'll need to take care crossing over Bridge Street.
---
[zoom zoomin=2]
0.75 miles (1.2 km)
15 minutes
Accessible for all users

Terrain: Paved footpaths & roads

Gravel footpaths can be muddy.

Gradient: Generally level

Mainly level but some downward slopes through park.
---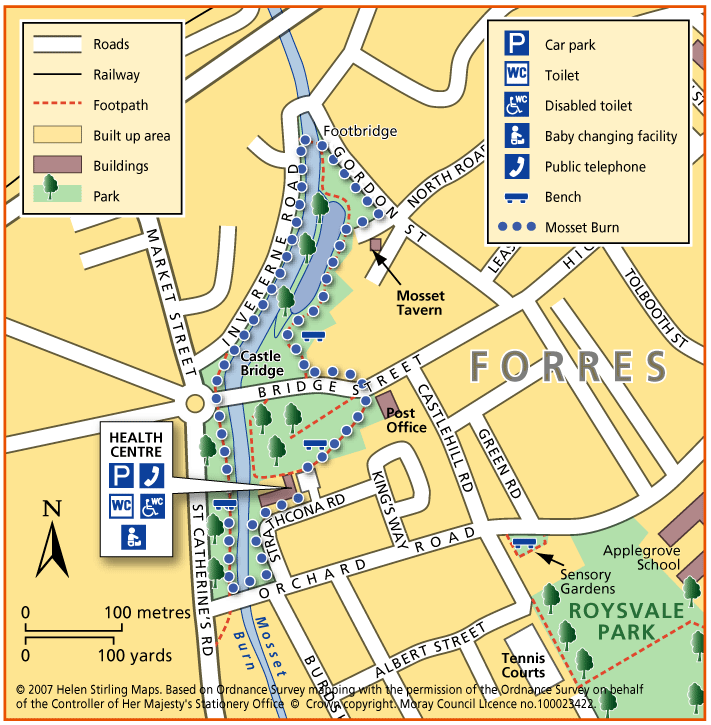 Report a route change

If you have followed this route and noticed any differences please report a route change by sending an email to: 
Send us a GPX track

We would like to offer GPS tracks of all routes on this site.

If you are able to help please create a GPX track of this route (no detours) and send it to us for inclusion.
This is a circular route, mostly on pavements with a downward slope through the park on the return journey. It is suitable for wheelchairs and buggies. Start – Health Centre on Strathcona Road
1. From the Health Centre, turn right and cross the bridge onto Orchard Street.
2. Turn right along the path beside the burn and cross the road at Bridge Street.
3. Walk along Invererne Road until you reach the footbridge, where you cross and turn down Gordon Street.
4. Turn right in front of Mosset Tavern and walk through the park to Castle Bridge.
5. Cross Bridge Street and turn left up towards the Post Office.
6. Turn right down the path by the Post Office and walk back to the Health Centre.
---
Links