Forres – Nelson's Monument Walk
This is a circular walk through woodland on good paths with some steady climbs and descents. The paths can be muddy or full of leaves depending on weather conditions and time of year. The view from the top of the hill is spectacular. The Tower is open between Tuesday to Sunday from 2pm – 4pm during May and September. If you can manage the stairs, on a clear day you can see Findhorn Bay and over the Moray Firth to the hills of Easter Ross and Sutherland.
---
[zoom zoomin=2]
1 miles (1.6 km)
25 minutes
Unsuitable for wheelchairs and buggies

Terrain: Varied surfaces

Tarmac and gravel footpaths - can be muddy.

Undulating
---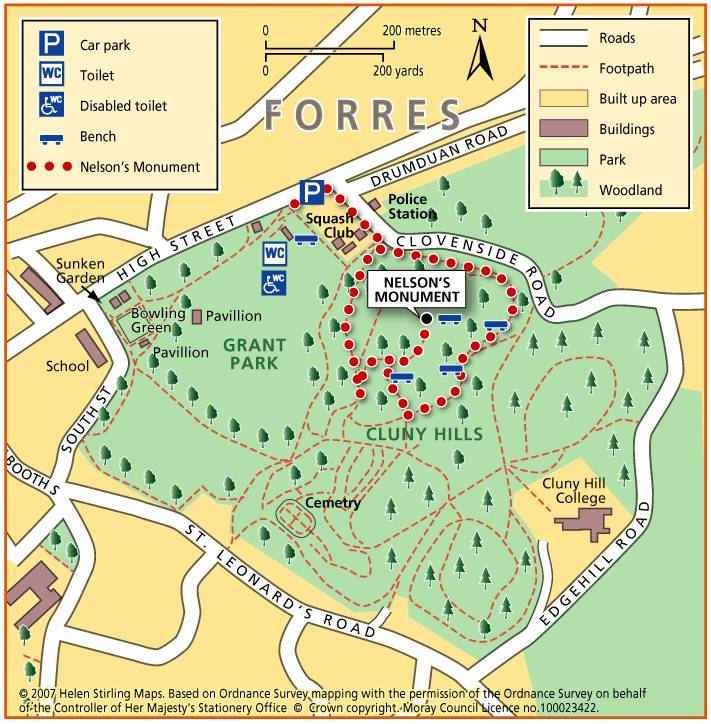 Report a route change

If you have followed this route and noticed any differences please report a route change by sending an email to: 
Send us a GPX track

We would like to offer GPS tracks of all routes on this site.

If you are able to help please create a GPX track of this route (no detours) and send it to us for inclusion.
Start – Car Park at east of Grant Park
1. From the Car Park, go right past the garage and then right again up Clovenside Road. (This is steep and there is no pavement so care required)
2. Take the path on the right into the wood.
3. Take the upper path on the left and almost immediately the path to the extreme left again by the spreading oak tree. Climb for 400 metres.
4. Pass the laurels and the Scots pine to the junction where you follow the path curving round the hill to the right (seats here).
5. At the crossroads there is a choice
– Right up to Nelson's Monument, which is a steep climb but has wonderful views
– Left and follow the path back to the start point