Forres – Sanquhar Loch Path
This is a circular route around Sanquhar Loch on paths, which can be muddy depending on the weather. Tree roots can be a problem and care needs to be taken at points along the path. This is a very scenic walk at any time of year, well signposted all the way round, with interesting wildlife particularly ducks, coots and swans.
---
[zoom zoomin=2]
1.25 miles (2 km)
30 minutes
Unsuitable for wheelchairs and buggies

Terrain: Varied surfaces

Mainly gravel paths - can be muddy.

Generally level

Barriers: Some barriers

Steps at the footbridge. Tree roots along some section of path.
---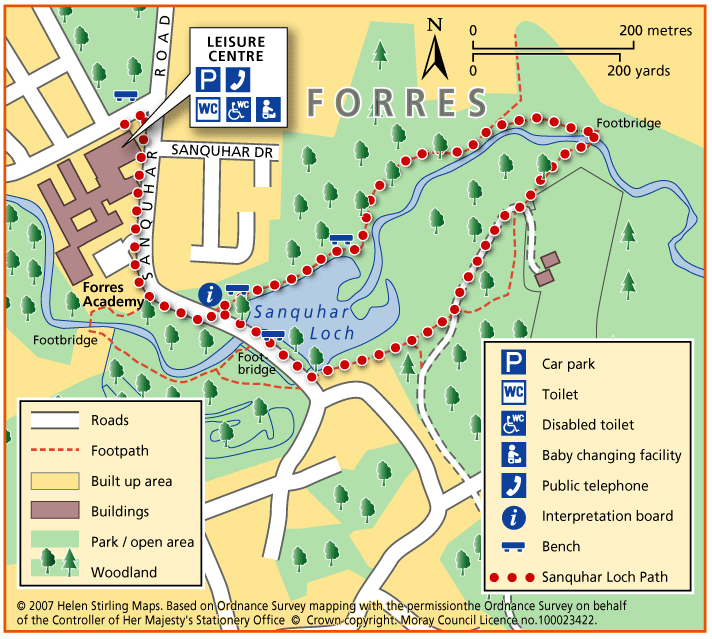 Report a route change

If you have followed this route and noticed any differences please report a route change by sending an email to: 
Send us a GPX track

We would like to offer GPS tracks of all routes on this site.

If you are able to help please create a GPX track of this route (no detours) and send it to us for inclusion.
The path needs care, as it can be muddy and also the tree roots can be quite prominent. It is fairly flat most of the way, with steps at the footbridge and some inclines.
Start – Forres Leisure Centre on Burdsyard Road
1. From the Leisure Centre turn right up Sanquhar Road to the interpretation board at the loch.
2. Take the path round the loch back to Sanquhar Road.
---
Links