Garmouth – The Lein and Bin Hill
The Lein is the name given to this area of massive shingle beaches the largest in Scotland – that run west of the mouth of the River Spey. They are part of a Scottish Wildlife Trust reserve and offer good dolphin-spotting. Ospreys also fish the river mouth in summer.
---
[zoom zoomin=2]
2.5 miles (4 km)
1h 30 minutes
Unsuitable for wheelchairs and buggies

Terrain: Coastal tracks

Generally good level shingle and earth paths though some sections may be undulating and slippery in the wet. The section to the Bin Hill is steep.

Gradient: Short steep sections

If you choose to climb to the top of the Bin Hill the path is steep.

Barriers: Some barriers

There are height restrictive barriers in place at the car park and the start of the path. If red flags are raised at the rifle range path users must not proceed into this area.

Fully signed
---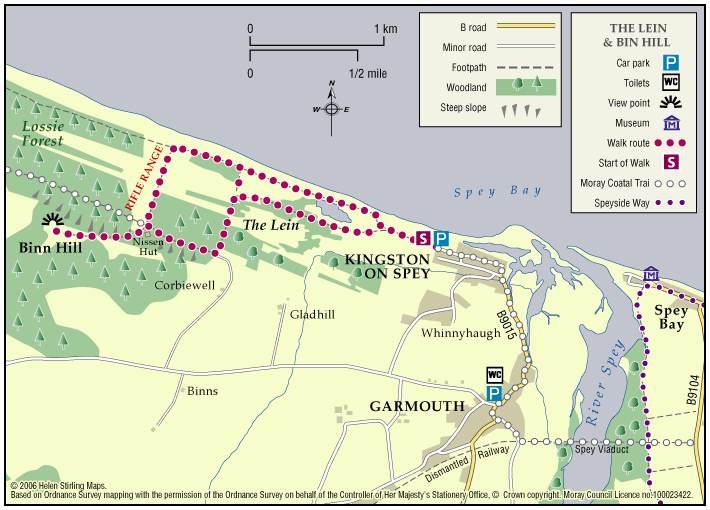 Report a route change

If you have followed this route and noticed any differences please report a route change by sending an email to: 
Send us a GPX track

We would like to offer GPS tracks of all routes on this site.

If you are able to help please create a GPX track of this route (no detours) and send it to us for inclusion.
Drive along the coast, through Kingston-on-Spey and park in the car park on the right hand side of the road, there are height restrictive barriers in place so take care if you have a 4×4 vehicle.
The Lein and Bin Hill paths are part of the much longer Moray Coast trail.
The start of this 2.5 mile circular path winds through the Scottish Wildlife Trusts Nature Reserve which contains many habitats, from bare shingle to coastal grasslands, brackish saltmarsh and wet woodland.
The path takes you round a military firing range and we caution that there are signs present warning that if there are red flags raised then path users must not proceed near the range.
These paths offer you the option to follow just the lower paths or you can lengthen the route by choosing to climb the Bin Hill to the viewpoint to experience the stunning views out over Kingston and the Moray Firth.
---
Contact
Moray Council Outdoor Access Manager