This walk takes you from Hopeman Surgery on a circular route along part of the old railway line to Cummingston. It is quite sheltered along the old track and has lovely views over the Moray Firth with potential to spot dolphins. The section from Cummingston back towards Hopeman is along a pavement next to a relatively busy road so care will be required.
---
[zoom zoomin=2]
1.5 miles (2.4 km)
30 minutes
Unsuitable for wheelchairs and buggies

Terrain: Varied surfaces

Gravel paths and tarmac pavements.

Gradient: Generally level

Relatively level, with short downwards slope to the old railway line in Hopeman and short steep incline to the bridge near Cummingston.

Barriers: Some barriers

Steps down to railway path at the Hopeman end.

Partly signed
---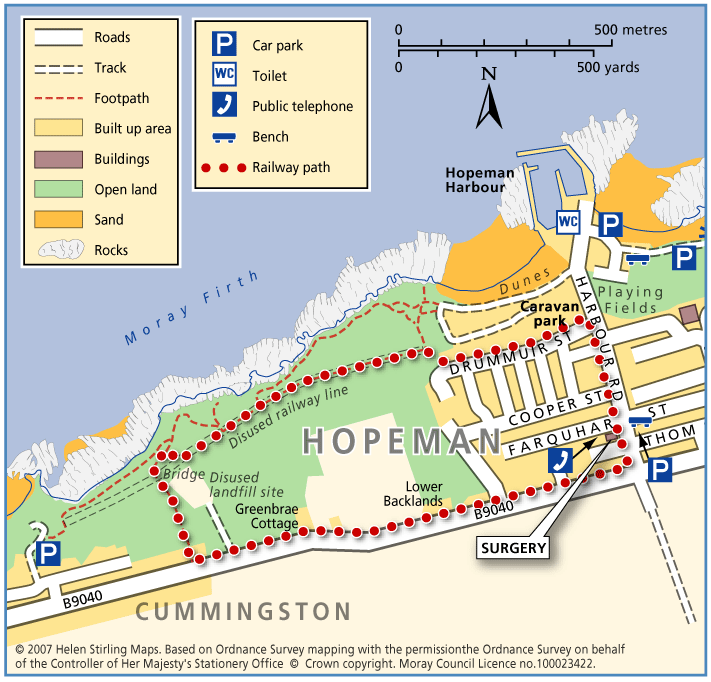 Report a route change

If you have followed this route and noticed any differences please report a route change by sending an email to: 
Send us a GPX track

We would like to offer GPS tracks of all routes on this site.

If you are able to help please create a GPX track of this route (no detours) and send it to us for inclusion.
Start – Surgery on Harbour Street
1. Head down Harbour Street to Duff Street ( previously know as and shown on the map as Drummuir Street)and turn left.
2. At the end of Duff Street, before you enter Drummuir Place turn right along the path to the old railway bridge where there are steps down to the old track.
3. Follow signs to Cummingston, going over the bridge then up to the play area, continue onwards through the gravel car park towards the main road.
4. Turn left back along the main road to Harbour Street and turn left back to the surgery.
There are toilets located at the play area in Cummingston.
You can pick up the Burghead railway Path Circular in Cummingston by not heading up towards the play area but instead continuing down the old railway line and lengthen the walk by a further 1.5 miles. See the page for the Burghead Railway Path for more information.