Keith – Cuthil Park Circular
This is a circular walk round Keith, following the little lanes that criss-cross the town. The surfaces are suitable for wheelchairs and buggies and the route is fairly level apart from a steady climb from Turner Street to Cuthill Park. There are benches at the start and at Cuthil Park.
---
[zoom zoomin=2]
1.25 miles (2 km)
25 minutes
Accessible for all users
Paved footpaths & roads

Gradient: Undulating

Steady climb from Turner St to Cuthil Park. Relatively level elsewhere.
---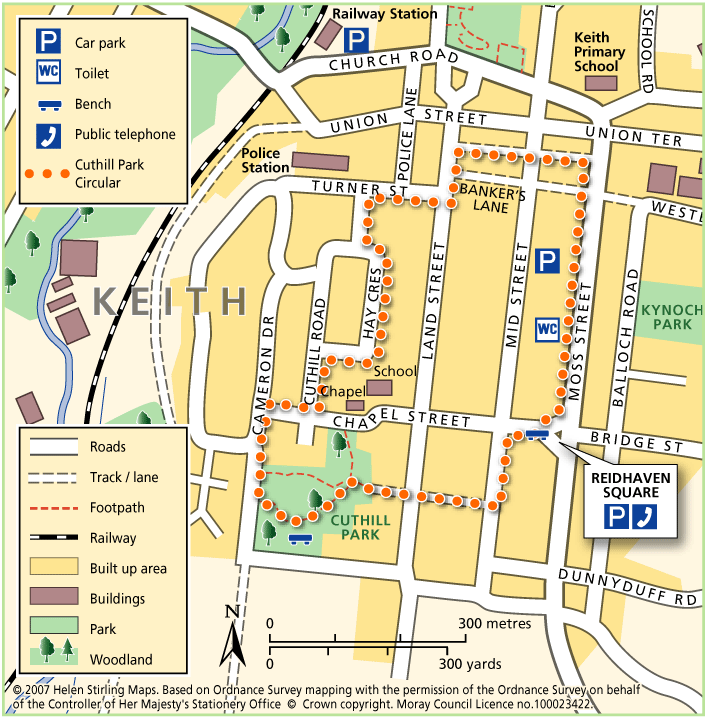 Report a route change

If you have followed this route and noticed any differences please report a route change by sending an email to: 
Send us a GPX track

We would like to offer GPS tracks of all routes on this site.

If you are able to help please create a GPX track of this route (no detours) and send it to us for inclusion.
Start – Reidhaven Square
1. Turn left onto Moss Street (A96) and walk down it until you reach house number 146.
2. Immediately after house number 146, turn left and walk down the lane.
3. Cross Mid Street and continue walking down the lane to Land Street, turn left and walk till you reach Turner Street on your right.
4. Walk along Turner Street and turn left opposite the Police Station, into Hay Crescent.
5. Follow Hay Crescent round to the right and then left into Cuthill Road.
6. Turn right into Chapel Street and left at the T junction into Cameron Drive.
7. Continue along Cameron Drive, keeping to the left. Cuthill Park is on the left.
8. Continue past the path into the park and turn left into the car park. Take the path on the right around the park.
9. Turn right at the paths' crossroads and continue to the park exit into the lane.
10. Follow the lane across Land Street to Mid Street. Turn left and return to Reidhaven Square.
---
Links