Keith – Simpson Memorial Park
This is a circular walk which takes you round Simpson Memorial Park. It is mostly on pavements and good paths, apart from a short stretch of grass path which could be muddy in the wet. It is suitable for wheelchairs and buggies if dry and is fairly flat apart from the section along Drum Road.
---
[zoom zoomin=2]
1.25 miles (2 km)
25 minutes
Accessibility: Accessible for all with care

Can be used by buggies and wheelchairs during dry weather.

Terrain: Varied surfaces

Mostly on tarmac pavements and paths. Grass path at Simpson park - which can be muddy in wet weather.

Gradient: Undulating

Long but steady climb up Drum Road. Relatively flat elsewhere.
---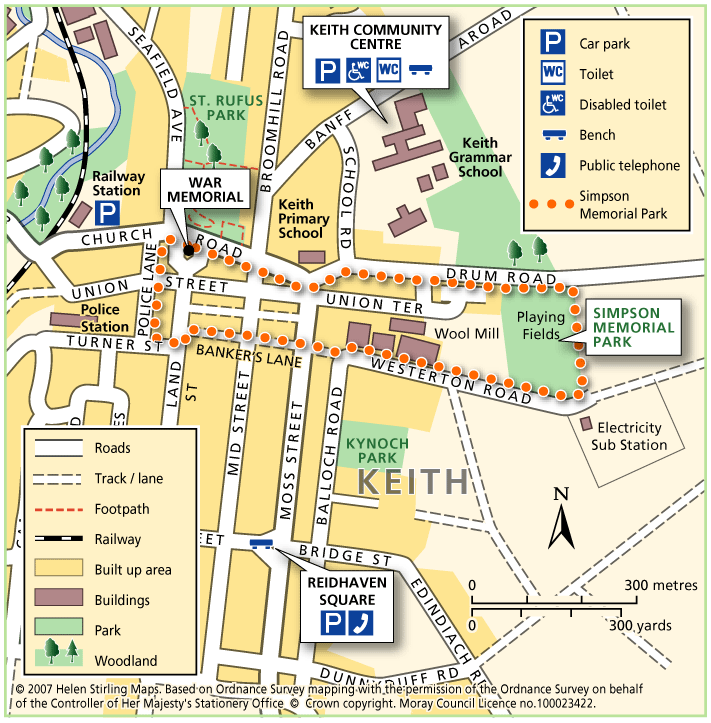 Report a route change

If you have followed this route and noticed any differences please report a route change by sending an email to: 
Send us a GPX track

We would like to offer GPS tracks of all routes on this site.

If you are able to help please create a GPX track of this route (no detours) and send it to us for inclusion.
Start – Church Road, by the War Memorial
1. Turn right to the end of Church Road, passing Keith Primary School and continue onto Drum Road.
2. Walk to the end of the houses and pavement and continue ahead on a grass path beside a high wire fence. Continue along to the right still following the fence round the perimeter of the park.
3. The path ends opposite the electricity sub station, turn right and walk along Westerton Road.
4. At the junction with Balloch Road, continue ahead along the lane and cross Moss Street.
5. Continue ahead along Baker's Lane, crossing Mid Street until you reach Land Street.
6. Turn left into Land Street and then first right into Turner Street. Turn right into Police Lane and walk to the end, reaching Church Road. Turn right and return to start.
---
Links