Keith – St Rufus Park Circular
This circular walk includes some very interesting parts of Old Keith, Strathisla Distillery, Milton Tower and Keith and Dufftown Old Railway Station. There are some steep sections, which would make it unsuitable for wheelchairs. There are benches at the start and along the way.
---
[zoom zoomin=2]
1.75 miles (2.8 km)
35 minutes
Unsuitable for wheelchairs and buggies

Terrain: Varied surfaces

A combination of roadside pavements, a tarmac footpath through the cemetery and a long section of gravel farm track. Take care on the track which is rather potholed and can be muddy in wet weather.

Undulating
---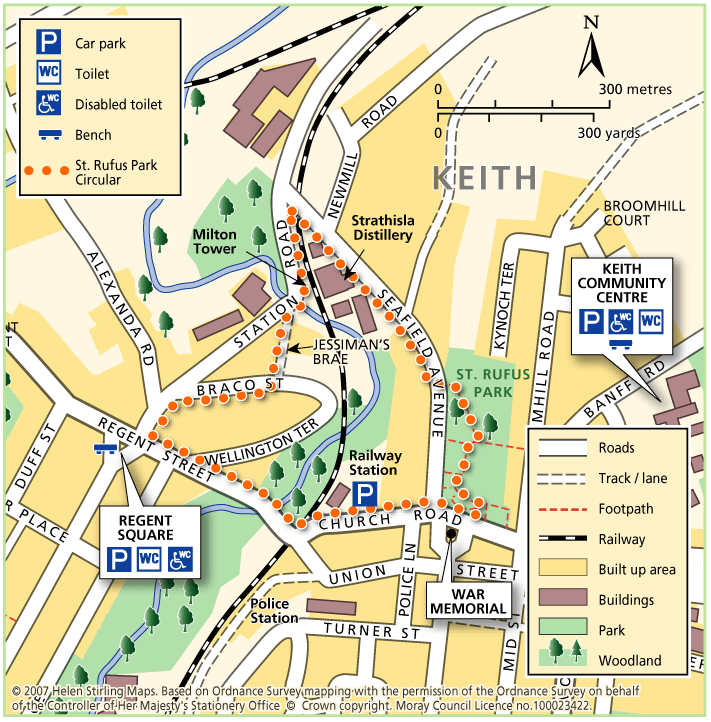 Report a route change

If you have followed this route and noticed any differences please report a route change by sending an email to: 
Send us a GPX track

We would like to offer GPS tracks of all routes on this site.

If you are able to help please create a GPX track of this route (no detours) and send it to us for inclusion.
Start – St Rufus Park entrance, Church Road (opposite the war memorial) or Regent Square, Fife Keith.
1. From St Rufus Park entrance, turn right down Church Road, past the Old Railway Station.
2. Continue over the bridge and walk up towards Regent Square, turning right opposite the Square, along Station Road. Keep to the right and walk along Braco Street.
3. Turn left into Jessiman's Brae to the weir, then right into Station Road, past Milton Tower.
4. Turn right into Seafield Avenue, past Strathisla Distillery and Visitor Centre.
5. Enter the park through the gate at the corner and walk through the park back to the start.
---
Links