Lossiemouth – Skerry Brae Walk
This is a circular walk on good footpaths and is suitable for wheelchairs and buggies. The route can be extended to include the Golf Course Walk, which would then be a Level 3 walk of 2 ¼ miles and take between 45 and 60 minutes.
---
[zoom zoomin=2]
1.25 miles (2 km)
25 minutes
Accessibility: Accessible for all with care

Suitable for wheelchairs and buggies, though be aware of the fairly steep section.

Paved footpaths & roads

Gradient: Short steep sections

Fairly steep but steady decline at Tullochs Brae. Relatively level elsewhere.
---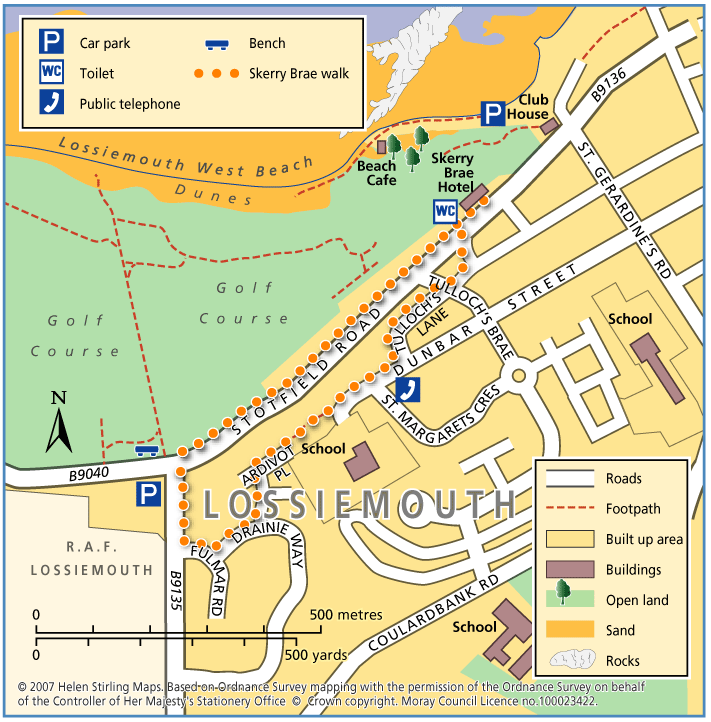 Report a route change

If you have followed this route and noticed any differences please report a route change by sending an email to: 
Send us a GPX track

We would like to offer GPS tracks of all routes on this site.

If you are able to help please create a GPX track of this route (no detours) and send it to us for inclusion.
Start – Skerry Brae Hotel, Stotfield Road
1. Turn right along Stotfield Road to the golf course path.
2. Cross the road and walk along the B9135 to Fulmar Road and turn left.
3. Turn left again into Drainie Way, then left up to Ardivot Place.
4. Take the footpath from Ardivot Place to Dunbar Street, turning left into Tulloch Lane.
5. Cross Tulloch's Brae and turn left to the junction with Stotfield Road and return to the Skerry Brae.