Auchindachy and Mill of Towie Walks
Both of these walks are part of a network of waymarked and signed paths around Keith. Straddling both sides of the valley of the River Isla, the routes venture from the town into the delightful open countryside to the south of the town. Ramble along the country lanes and take in the rich scenery and extensive views to the hills and mountains.
---
[zoom zoomin=2]
7.75 miles (12.4 km)
4 hour(s)
Unsuitable for wheelchairs and buggies

Terrain: Varied surfaces

Both routes are mainly on tarred minor roads with some sections on farm tracks and grass/earth paths. Some sections can be muddy and overgrown at times, so sturdy footwear is advised.

Gradient: Undulating

Generally undulating with a few steady gradients in places.

Barriers: Some barriers

Several field gates along both routes and a narrow bridge with a step at Braehead (there is a ford along side which may be used by horses).

Fully signed
---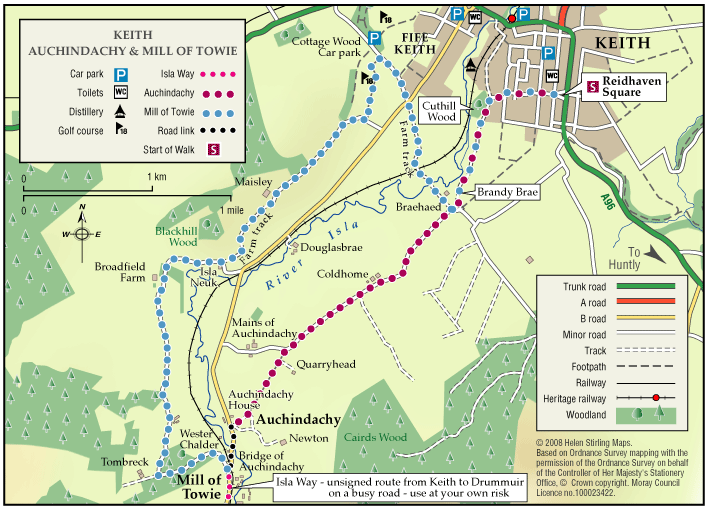 Report a route change

If you have followed this route and noticed any differences please report a route change by sending an email to: 
Send us a GPX track

We would like to offer GPS tracks of all routes on this site.

If you are able to help please create a GPX track of this route (no detours) and send it to us for inclusion.
The routes start at the information board in Keith (Reidhaven) Square. They can be enjoyed as two separate walks or can be combined as a round by walking along a short (unsigned)section of the B9014. CAUTION should be exercised on this busy road.
As parts of the routes cross open countryside and have a variety of path surfaces, stout footwear and waterproof clothing are recommended.
Keith Square to Auchindachy = 2.5miles (approx 1.25 hours).
Keith Square to Mill of Towie = 5 miles (approx 2.5 hours).
If walked as a circular route = 7.75 miles (approx 4 hours).
The Auchindachy route also currently forms the start of the longer distance Isla Way, which links Keith with the distillery town of Dufftown.
---
Contact
Moray Council Outdoor Access Manager