Dufftown – Dufftown Dramble
'Rome was built on seven hills, Dufftown was built on seven stills' – so goes the old rhyme. This walk, starting from the Dufftown clock-tower, links all the Dufftown distilleries in one walk.
---
[zoom zoomin=2]
4.5 miles (7.2 km)
3 hour(s)
Accessibility: Suitable for a wide range of users

Able-bodied walkers, some sections can be cycled. The nature of the terrain and the presence of physical barriers would make the route difficult to negotiate on horseback.

Terrain: Varied surfaces

A mixture of tarmac, gravel and grass paths with some sections on public roads - look out for traffic. Short gradients and sections of uneven path.

Gradient: Undulating

Generally level with short gradients.

Barriers: Some barriers

A number of gates and steps.

Unsigned
---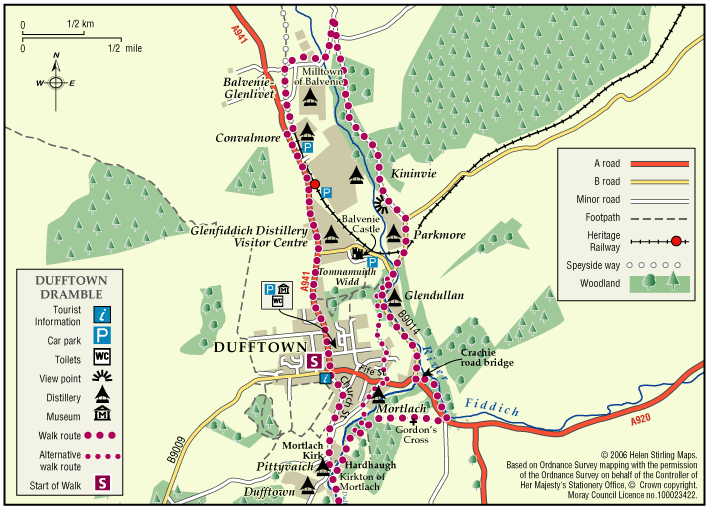 Report a route change

If you have followed this route and noticed any differences please report a route change by sending an email to: 
Send us a GPX track

We would like to offer GPS tracks of all routes on this site.

If you are able to help please create a GPX track of this route (no detours) and send it to us for inclusion.
The route is one of a network of promoted paths in Dufftown which start at the Clocktower where there is a map board.
This circular walk, starting and finishing at the clock-tower in the square, provides an insight into Dufftown's distillery heritage and a whiff (literally!) of the towns most famous product.
Note: The route is not signed as the 'Dufftown Dramble'.
---
Contact
Moray Council Outdoor Access Manager
---
Contact
Speyside Footpaths Network Group