Dufftown – Pitglassie Viewpoint
Pitglassie Viewpoint is one of many walks in Dufftown, it is a circular path, but either way you have a bit of a climb.
---
[zoom zoomin=2]
Unsuitable for wheelchairs and buggies

Gradient: Undulating

Steady climb from either direction

Unsigned
---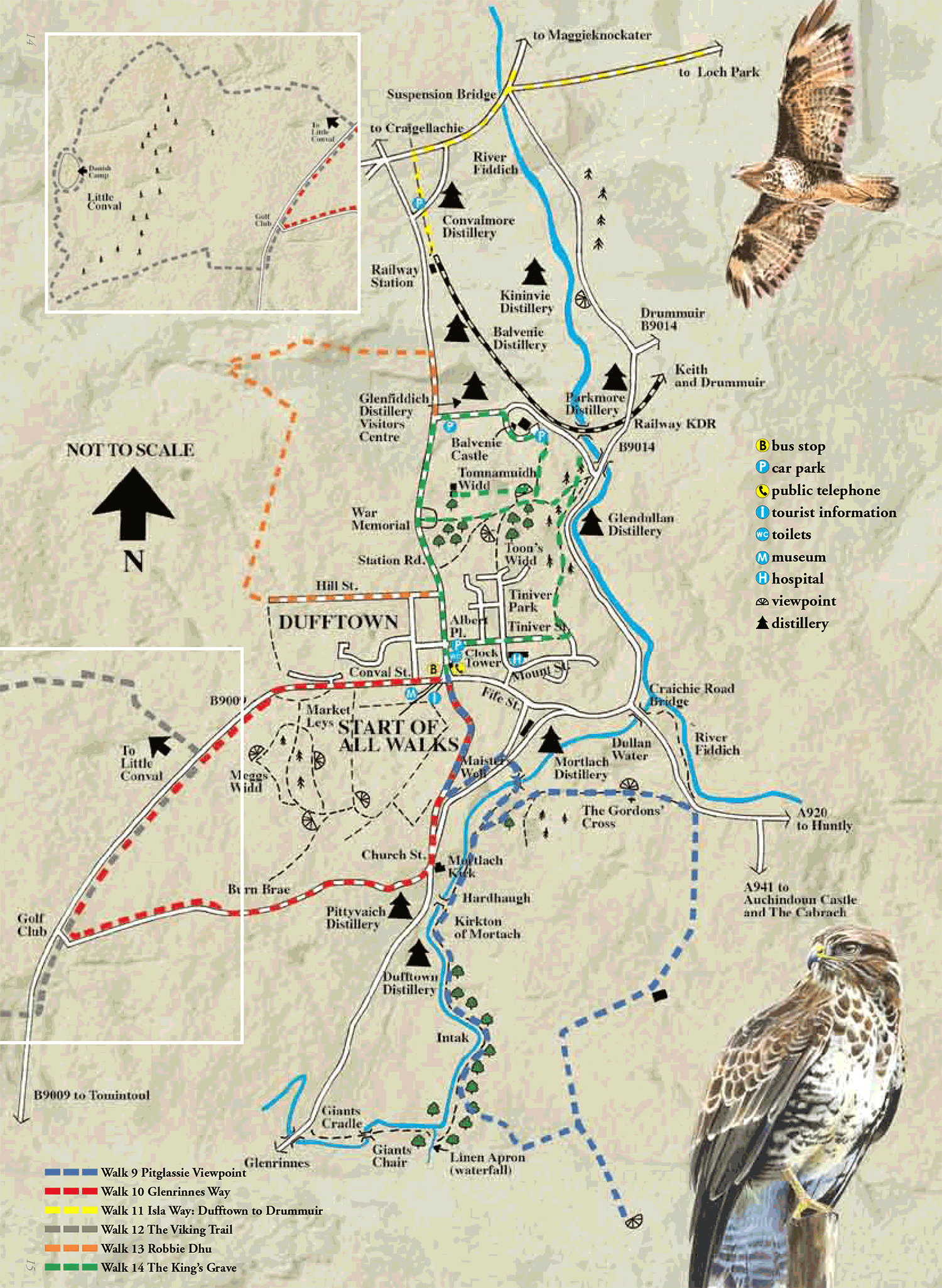 Report a route change

If you have followed this route and noticed any differences please report a route change by sending an email to: 
Send us a GPX track

We would like to offer GPS tracks of all routes on this site.

If you are able to help please create a GPX track of this route (no detours) and send it to us for inclusion.
Suggest going up from the Intak to enjoy the views going down from Pitglassie.  The route from the Intak is unsigned and can be overgrown with tall grass. Once past the Glack the route follows farm tracks. Look out for red squirrels and pine martens.
Pitglassie Viewpoint is a circular walk so you choose which way to go round, but either way you have a bit of a climb.
From the Clocktower head along Church Street and cross the Dullan Water just beyond Mortlach Kirk to join the Giant's Chair Walk. Pass Dufftown Distillery on the right, then a tranquil stretch of river until you reach the "Intak" (a weir) where there is a picnic bench. Just past the seat head up the hill on the left following a rough path through a new plantation until a new gate into a field is reached. Follow the fence to another gate, turn right and follow the track to the Viewpoint.
Look for Auchindoun Castle beyond the conifer plantation. Nearer to hand the gable end of an old chapel remains intact. Retrace your footsteps to the gate, but head straight on until you join a track on the right, which goes down to Pitglassie Farm. The view is splendid. At the road junction either follow the Gordons' Cross signs or the River Walk signs to return to the Square.
---
Contact
Moray Council Outdoor Access Manager