Dufftown- The Giant's Chair
The 'Giant's Chair' is a rock feature carved out by the power of the River Dullan in spate. This lovely walk takes in many interesting features of history, culture and landscape. Dufftown has seven operating whisky distilleries including the famous Glenfiddich brand.
---
[zoom zoomin=2]
2 miles (3.2 km)
60 meters (196 ft)
1h 30 minutes
Accessibility: Suitable for a wide range of users

The route is suitable for walkers and mountain bikes.

Terrain: Varied surfaces

Mixture of tarmac, gravel and grass. Some rough sections near The Giant's Chair.

Gradient: Undulating

An undulating path with some short steep sections. Total height climbed is around 200ft (60 metres).

Barriers: Some barriers

Kissing gate at far end of this walk, and some flights of steps

Fully signed
---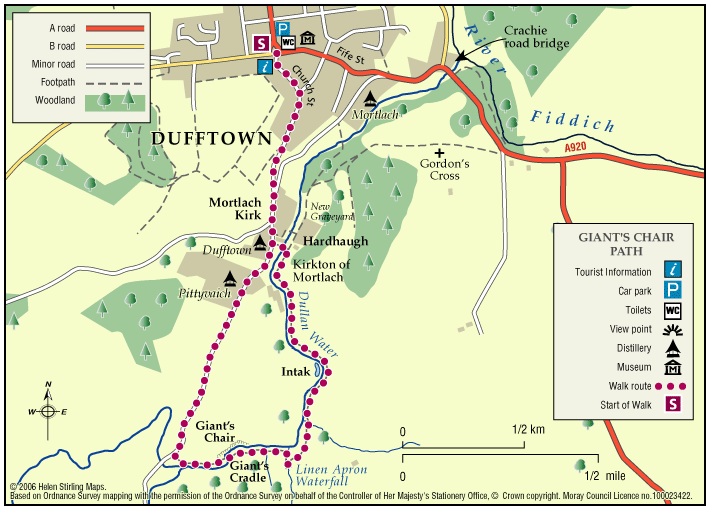 Report a route change

If you have followed this route and noticed any differences please report a route change by sending an email to: 
Send us a GPX track

We would like to offer GPS tracks of all routes on this site.

If you are able to help please create a GPX track of this route (no detours) and send it to us for inclusion.
The Giant's Chair is part of a network of promoted paths which start and finish at the Clocktower in Dufftown Square where there is a map board. The routes are centred around Dufftown, acknowledged as the malt whisky capital of the world, situated at the edge of the newly created Cairngorms National Park.
This walk starts from the Dufftown clock-tower (housing the 'clock that hanged McPherson'), passes Mortlach Kirk and kirkyard and various distilleries and then explores the landscape of the River Dullan. For more detailed information on the route download the 'Paths Around Dufftown Leaflet' located at the bottom of this page.
---
Contact
Moray Council Outdoor Access Manager
---
Contact
Speyside Footpaths Network Group