Keith – Dunnyduff and The Den
This walk is part of a network of waymarked and signed paths linking all the delights the Keith area has to offer. The route can be enjoyed in both directions, starting and finishing at the map information board in Keith Square (Reidhaven Square). 
---
[zoom zoomin=2]
3 miles (4.8 km)
2 hour(s)
Accessibility: Unsuitable for wheelchairs and buggies

Suitable for a wide range of users in the flat sections near Keith but in the countryside the route is appropriate for more able, energetic persons. Horse riding is not recommended at Tarnash due to the steep nature of the path linking to Dunnyduff.

Terrain: Varied surfaces

A combination of roadside pavements, minor roads, green tracks and some rougher paths with several steep inclines.

Short steep sections

Barriers: Some barriers

Some steps exist in Dunnyduff Wood.

Fully signed
---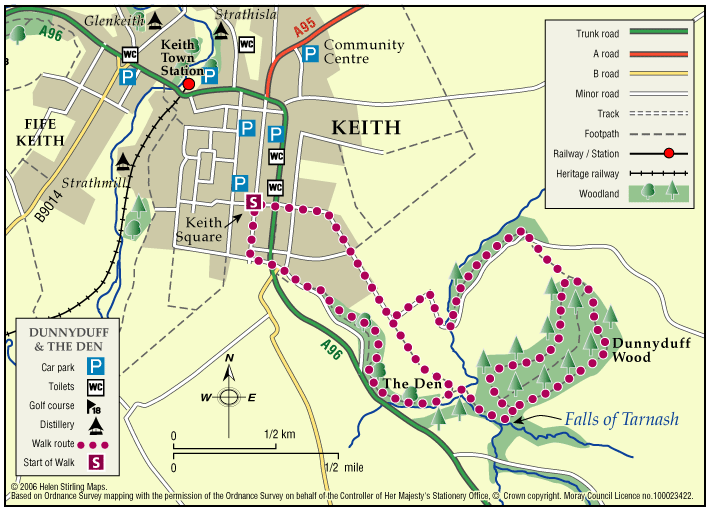 Report a route change

If you have followed this route and noticed any differences please report a route change by sending an email to: 
Send us a GPX track

We would like to offer GPS tracks of all routes on this site.

If you are able to help please create a GPX track of this route (no detours) and send it to us for inclusion.
The route is a must for the nature lover, involving a variety of paths linking Keith and the tree lined Den with the beautiful falls of Tarnash and Dunnyduff Wood managed by the Forestry & Land Scotland.
As parts of the route cross open countryside and have a variety of path surfaces, stout footwear and waterproof clothing are recommended.
---
Contact
Moray Council Outdoor Access Manager
---
Contact
 Forestry and Land Scotland – Huntly Office
Tel: 0300 067 6380
Portsoy Road, Huntly AB54 4SH