The path is a circular route through woodland, and the sections which follow the river Findhorn are very close to the cliff edge. The path is approximately three miles south of Forres.
---
[zoom zoomin=2]
2 miles (3.2 km)
1h 30 minutes
Accessibility: Suitable for a wide range of users

The route is suitable for a wide range of users but the terrain might prove difficult for the less able

Terrain: Forest tracks

Mostly a woodland earth path with narrow aggregate sections, and rough vehicle tracks.

Gradient: Undulating

Be aware the path is undulating and is close to steep cliffs at parts,

Barriers: Some barriers

Many protruding tree roots crossing the path

Partly signed
---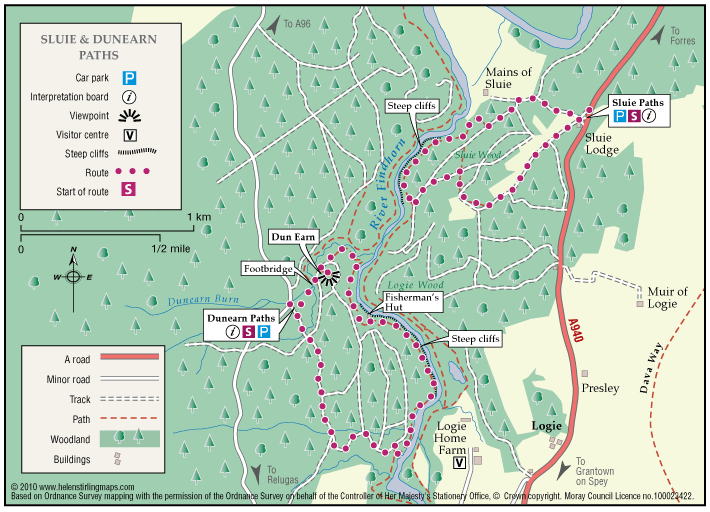 Report a route change

If you have followed this route and noticed any differences please report a route change by sending an email to: 
Send us a GPX track

We would like to offer GPS tracks of all routes on this site.

If you are able to help please create a GPX track of this route (no detours) and send it to us for inclusion.
Sluie path has an informal gravel car park, with an interpretation board, in the car park, the path has scenic views with various wildlife to see.
---
Contact
Moray Council Outdoor Access Manager