Lossiemouth – Forest by the Firth Trail 
The town commands the prominent headland at the mouth of the River Lossie. It has dramatic and beautiful beaches, wonderful countryside and plenty to see and do. Part of the route follows the long-distance Moray Coast Trail. 
---
[zoom zoomin=2]
Accessibility: Unsuitable for wheelchairs and buggies

Due to the loose sand and shingle, the route is unsuitable for wheelchairs, buggies or road bikes.

Terrain: Varied surfaces

The route follows the sandy beach, with areas of loose shingle, and forest tracks. The trail can also be damp through the salt marsh area. Sturdy footwear is advised.

Gradient: Generally level

Relatively level, except short steep shingle ridge of around 2 metres in height.

Barriers: Some barriers

During high Spring Tides the route may be impassable along the beach. The trail requires a short scramble over a steep section of loose shingle (approx 2 metre height) to the dunes. Access to the beach is over a long narrow timber bridge.

Partly signed
---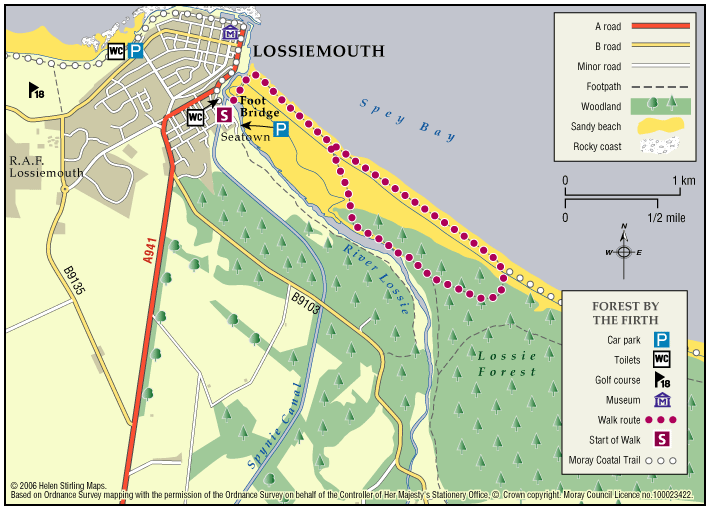 Report a route change

If you have followed this route and noticed any differences please report a route change by sending an email to: 
Send us a GPX track

We would like to offer GPS tracks of all routes on this site.

If you are able to help please create a GPX track of this route (no detours) and send it to us for inclusion.
Please note, that there is now a new bridge crossing to the beach. The Lossiemouth East Beach Bridge can be found opposite Miele's of Lossie, 17 Clifton Rd, Lossiemouth IV31 6DJ.
Lossiemouth has political connections through its famous son Ramsay MacDonald. At one time Lossiemouth was the hub of fishing activity in the area as well as the major port for Elgin. In the past silver and lead was prospected and since the war, the town has been home to the RAF Lossie Airbase.
This route is featured as part of the Lossiemouth Paths Network. The route is designed as an informal trail which is only signed at key points. Elsewhere the user is left to choose their own way back either across the mudflats or through the dunes and back along the beach. Starting at the Lossie footbridge the trail heads east along the beach. Keep a lookout for dolphins and even whales in the Firth. Carrying on further over the shingle the trail turns south into Lossie Forest. Here sheltered tracks and paths lead you west towards the River Lossie. At times the riverside section may be impassable during high tides but this small estuary is a great place to get up close to large flocks of ducks and waders. Crossing salt marsh and dunes the trail returns you back to Lossiemouth along the sands.
---
Contact
Moray Council Outdoor Access Manager
---
Links