This 13 mile route has a great variety in scenery and setting, and you will always be rewarded with natural beauty wherever you are on the path. The route follows the valley of the infant River Isla, which rises in the hills above Drummuir on its way to Keith and the Moray Coast beyond.
---
[zoom zoomin=2]
13 miles (20.8 km)
240 meters (787 ft)
1 day(s)
Accessibility: Unsuitable for wheelchairs and buggies

All of the route can be used for walking, cycling, and horseriding.

Terrain: Varied surfaces

Surfaces are generally sound including tar, gravel and earth paths. In places the trail follows narrow tarmac public roads, and road pavements through Dufftown and Keith. Sections of the paths will be muddy when wet.

Gradient: Undulating

The route climbs to around 300 metres (1,000ft) above sea level. Total height climbed is modest at around 240 metres (780 ft). Slopes are generally easy, although there are a couple of steep sections to be negotiated.

Barriers: Many barriers

Between Dufftown and Loch Park there is a narrow suspension bridge across the River Fiddoch. There are some steps in the Toon Widd at Dufftown.Loch Park to Drummuir has no barriers and is an all abilities standard.Between Drummuir and Keith there are unsigned sections on public roads, including a mile section on busy B9014, where users are next to fast traffic.Two field gates exist across the path above Auchindachy.

Partly signed
---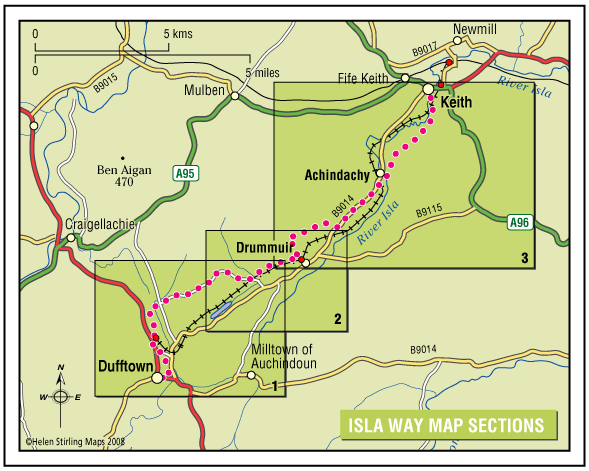 Report a route change

If you have followed this route and noticed any differences please report a route change by sending an email to: 
Send us a GPX track

We would like to offer GPS tracks of all routes on this site.

If you are able to help please create a GPX track of this route (no detours) and send it to us for inclusion.
---
Gallery
Enjoy attractive farm and woodland in a pastoral setting, and marvel at the great views to be had from the highest parts of the route. Amble along the route which is just long enough to be challenging and yet can be easily completed in a day.
If you prefer, split the route up into sections using the three stations on the Keith & Dufftown Heritage Railway. The route encapsulates unspoilt Moray and is just waiting for you to reveal its hidden delights.
The route can be broken into three distinct sections:
1. Dufftown to Loch Park
2. Loch Park to Drummuir (all abilities trail)
3. Drummuir to Keith (mostly on public road & unsigned.)
The Route: The route links the famous distillery towns of Keith & Dufftown, paralleling the heritage railway.
It is fully signed between Dufftown and Drummuir.
The remainder of the route to Keith mostly follows public roads at present.
The section along the B9014 is unsigned and great care should be taken as there is no verge for about a mile. Thereafter the route follows signed paths and a minor road from Auchindachy to Keith.
Natural heritage abounds at scenic Loch Park and extensive stands of mature deciduous woodlands. Historic interest is displayed at Botriphnie Kirk (Drummuir) and Balvenie Castle (Dufftown).
There are 11 distilleries along the route, with visitor centres at Glenfiddoch (Dufftown) and Strathisla( Keith).
If you are lucky you might see some of the wildlife including Osprey, Herron, Owl, Otter, Red Squirrel and Buzzard.
Users
The route can be walked comfortably in a day, but it is possible to split it between the heritage Railway Stations at Keith, Drummuir & Dufftown. All of the route can be used for walking, cycling, and horseriding.
It would be preferred if horses did not use the all abilities section between Drummuir and Loch Park to minimise damage.
Users need to decide for themselves whether they feel comfortable following the more busy on road section along the B9014 where they will be exposed to fast moving traffic.
Getting to the Route
By car, Keith is situated on the main A96 trunk road between Inverness and Aberdeen, and is about 17 miles south of Elgin.
Dufftown is about 17 miles south of Elgin, and is located on the A941 about 5 miles off the A95 trunk road to Grantown on Spey.
By Train, there is a main line railway station at Keith, with regular sevices to Elgin and Aberdeen. There is also a regular bus service between Aberdeen and Elgin, which stops at Keith Square.
A daily bus service runs Dufftown-Keith and Dufftown-Elgin.
---
Contact
Moray Council Outdoor Access Manager