The Convals (Meikle Conval, 571m and Little Conval, 552m) are the two 'rounded humps' separated from Ben Rinnes by the 'Beatshach', the pass linking Speyside to Glen Rinnes.
---
[zoom zoomin=2]
---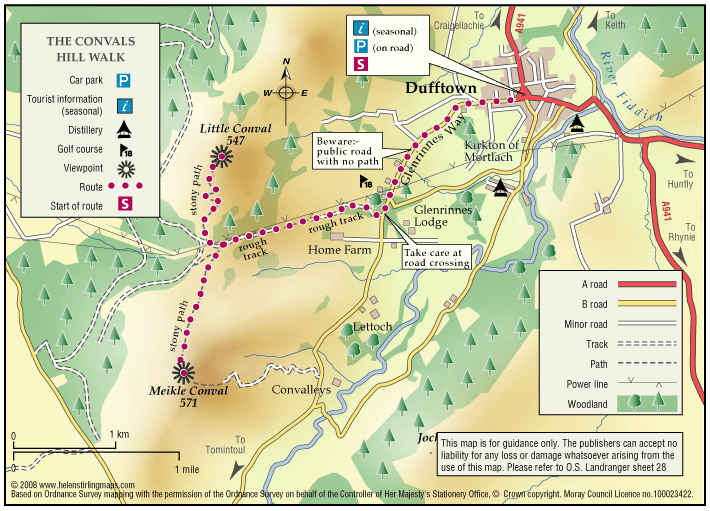 Report a route change

If you have followed this route and noticed any differences please report a route change by sending an email to: 
Send us a GPX track

We would like to offer GPS tracks of all routes on this site.

If you are able to help please create a GPX track of this route (no detours) and send it to us for inclusion.
Leave Dufftown uphill from the Square alongside the B9009 to Tomintoul.
A roadside path, shared with the 'Glen Rinnes Way' takes you to just past the golf course, after which a short section of roadwalking (take great care) leads to the turn-off, on the opposite side of the road, uphill on a rough track (see map).
Follow this track up into the col between the two Convals, just past the highest point.
Turn right, uphill, on a rough zig-zag path for the top of the Little Conval, or left, making your own way, for the 'Muckle' or 'Meikle' Conval.
Return the same way. Little Conval has the remains of a hill fort (thought by some to have been abandoned before completion) on its summit.
---
Contact
Moray Council Outdoor Access Manager